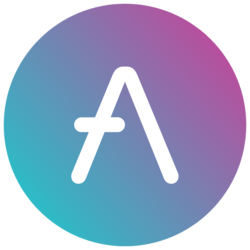 Aave Price
aave
+0.25%
Live
AAVE
Price Summary
As of Feb 3, 2023, the global cryptocurrency market cap is $1.28B with a +0.60% change in the last 24 hours. AAVE's current price is $89.81, with a 24-hour trading volume of $--. AAVE is +0.25% in the last 24 hours, with a circulating supply of 14.26M AAVE coins and a maximum supply of 16.00M AAVE coins. AAVE ranks 44 by market cap. It has a 24H high of $93.36 recorded on Feb 3, 2023, and its 24H low so far is $87.93, recorded on Feb 3, 2023.
What Is the Highest Price of AAVE?
AAVE has an all-time high (ATH) of $661.69 , recorded on May 18, 2021.
What Is the
Lowest
Price of
AAVE?
AAVE has an all-time low (ATL) of $26.02, recorded on Nov 5, 2020.
About Aave (AAVE)
What Is Aave?
Aave acts as a decentralized finance protocol that enables people to lend and borrow crypto. The Aave protocol, which leverages ERC20 tokens, is built on the Ethereum blockchain. It allows lenders to earn interest by depositing crypto assets into liquidity pools.
A liquidity pool is a crowdsourced pool of cryptocurrencies or tokens locked in a smart contract that's used to facilitate trades between the assets on a decentralized exchange. Borrowers can use crypto as collateral to draw a flash loan using this liquidity. The platform is meant for crypto users to seamlessly borrow and lend digital currencies without the need for an intermediary.
What Is AAVE Crypto?
AAVE crypto is an Ethereum token that powers the Aave platform, an open-source, decentralized and non-custodial liquidity protocol. The Aave platform enables users to participate as either depositors or borrowers. Depositors play the role of providing liquidity to the market to earn a passive income, while borrowers are loaned cryptocurrencies in exchange for paying a variable interest rate.
Aave offers ultra-short duration loans as well as uncollateralized flash loans. When it began as ETHLend in 2017, it raised$16.2 million in an initial coin offering (ICO) to create a decentralized lending platform.
What Are AAVE Tokens Used For?
The AAVE token allows users to borrow and lend credit check-free because of the platform's use of smart contracts, which are programs stored on a blockchain that run when predetermined conditions are fulfilled. They're used to automatically execute an agreement, which guarantees the outcome for all parties involved without any intermediary involvement or time loss.
When receiving a loan to borrow AAVE tokens, users have to provide collateral in the form of another cryptocurrency. This provides insurance in the event the borrower is unable to pay back the loan. The tokens accepted by AAVE for lending and borrowing are Tether, DAI, Chainlink, MakerDAO and Uniswap.
Aave's network operates without any middleman by leveraging liquidity pools. When a user invests in Aave, they have to invest in the protocol's native currency, AAVE, which can be borrowed and loaned on the platform with no fees, and is used as a governance token.
Who Is the Founder of Aave (AAVE)?
Stani Kulechov founded Aave. According to him, Aave's target market are the people already engaged in the cryptocurrency community. He was an early proponent of blockchain and envisioned rebranding ETHLend to Aave, which allowed the organization to offer a wider range of services beyond Ether lending.
How Does Aave Work?
Aave is a system of lending pools in which users can deposit the funds they wish to lend. These assets are collected in a pool, from which borrowers can draw loans. The tokens in the pool can also be traded or transferred by the lender.
Aave issues two types of tokens: aTokens, which are issued to lenders so they can collect interest on deposits; and AAVE tokens.
AAVE cryptocurrency borrowers aren't charged any fee if they take out loans denominated in the native token. In addition, borrowers who use AAVE as collateral receive a discount on fees. Similarly, if AAVE owners pay their fees in AAVE, they can also look at loans before they're released to the general public. Borrowers who post AAVE as collateral also have higher borrowing limits.
Why Is AAVE Valuable?
In early 2021, AAVE price began to surge. At the time, AAVE price rose 717% between January and May, reaching an all-time high of $661.69 on May 18, 2021. The coins then saw a precipitous decline because of regulatory decisions in China related to Bitcoin (BTC), which affected the broader crypto market.
One of the main operators of AAVE price is money flowing into decentralized finance. As more capital gets used, demand for platforms like Aave grows, increasing AAVE price. Additionally, AAVE derives its value from its finite supply. The Aave platform also uses revenue from fees to buy AAVE and remove tokens from circulation.
What Makes Aave Unique?
In the summer of 2020, when there was a surge in the DeFi space, Aave became one of the biggest projects in the world in terms of total value locked (TVL). Aave allows users to borrow and lend over 30 cryptocurrencies. One of its flagship products is flash loans, the first uncollateralized loan option in the DeFi space.
Collateral Types
Before a user borrows funds, they need to deposit an asset as collateral. The amount made available to borrow must match the amount deposited as collateral. Lenders or suppliers can redeem the aToken at a 1:1 ratio with the original asset deposited. After the collateral is deposited, the user can find the cryptocurrency they wish to borrow on the Aave home page.
Aave launched V2 of its protocol platform in December 2020, offering users the ability to swap collateral within the platform. Earlier, the process required several applications and higher gas fees; however, the launch of this feature allowed the collateral that's deposited before borrowing funds to be swapped for another cryptocurrency within Aave.
Users can also swap their cryptocurrency into a stablecoin to avoid price fluctuations when there's a risk of an asset becoming devalued in price.
Aave then launched V3 of its protocol platform in March 2022, offering users the ability to optimise their assets supplied to the platform. Protocol V3 allows liquidity flow between the V3 markets across different networks. This is especially useful for bridging protocols because they can make use of the liquidity to facilitate cross-chain interactions.
Interest Rates
Aave's interest rates are constantly changing based on the utilization of Aave's liquidity pools, referred to as the utilization rate. When there's a large amount of capital in the liquidity pools, interest rates remain low, which encourages users to take out loans. Interest rates increase when capital is limited, which incentivizes lenders and encourages borrowers to return funds.
Variable interest rates differ based on the demand within Aave's market. Variable rates usually offer lower interest rate fees, but are dependent upon market conditions. Thus, variable rates aren't ideal for long-term financial planning.
Borrowers are offered a more predictable rate in stable interest rates. However, stable interest rates aren't the same as traditional fixed-interest rates, as they can still move. Their predictability benefits users because stable interest rates are often higher than variable interest rates.
Flash Loans
Aave allows flash loans that can be instantly issued and settled. These loans require no upfront collateral. They take advantage of all blockchains, as the transactions are finalized when the network accepts a new bundle of loans, known as a block.
A borrower can use flash loans for trading opportunities, or to maximize profits from other systems built on Ethereum. It's possible to swap different cryptocurrencies automatically using flash loans to generate trading profits.
How Many AAVE Coins are in Circulation?
AAVE price at $76.59 at the time of this writing (June 12, 2022), with a 24-hour trading volume of more than $212 million. It has a live market cap of approximately $1.06 billion and a circulating supply of 13,885,020 AAVE coins, with a maximum total supply of 16 million.
How to Store AAVE Crypto
AAVE crypto is stored in crypto wallets. A cryptocurrency wallet offers a private set of keys that can be used to store tokens off the cryptocurrency exchanges. This limits the risk of loss and liability if the account gets hacked.
AAVE is an ERC20 token, so users have multiple options when it comes to storing this token. Examples of hardware wallets that can be used are Ledger Nano S, Bluetooth-enabled Ledger Nano X for a significant amount, and SecuX V20. Software wallets, such as MyEtherWallet and MyCrypto, also support AAVE.
How to Buy AAVE
You can buy AAVE from any of the top cryptocurrency exchanges, including Bybit.
Buying AAVE on Bybit
To purchase AAVE on Bybit, simply follow these steps:
Head to the spot trading page of AAVE.

Select your trading pair on the left side of the page. For AAVE, you can only trade with USDT.

Choose the type of order you'd like to make: Limit Order, Market Order or Conditional Order.
For Limit Orders:
Select Limit.

Enter the order price.

Enter the amount of AAVE you want to buy.

Click on Buy AAVE.

Once you've confirmed that your information is correct, click on Buy AAVE.

View your order details under Active on the web page, or Orders if you're using the Bybit app.
For Market Orders:
Select Market.

Enter the amount of USDT you've paid to buy AAVE.

Click on Buy AAVE.

Once you've confirmed that your information is correct, click on Buy AAVE.

View your order details under Filled.
For Conditional Orders:
Select Conditional.

Enter the trigger price.

Choose to execute at Market Price or Limit Price.

Market Price: Order price need not be set.

Limit Price: Order price needs to be set.

According to order types:

Market Buy: Enter the amount of USDT you've paid to buy AAVE.

Limit Buy: Enter the number of AAVE you want to buy.

Click on Buy AAVE.

Once you've confirmed that the information is correct, click on Buy AAVE.

View your order details under Conditional on the web page, and All Orders → Current Orders on the Bybit app.
For more help, you can also visit the Bybit spot trading guide.
How do you feel about Aave today?
Vote to see what the community thinks
Follow Us on Social Media
Follow