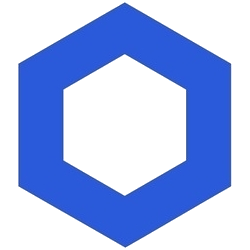 Chainlink Price
link
+6.71%
Live
LINK
Price Summary
As of 22 mars 2023, the global cryptocurrency market cap is $3.71B with a +6.14% change in the last 24 hours. LINK's current price is $7.57, with a 24-hour trading volume of $--. LINK is +6.71% in the last 24 hours, with a circulating supply of 491.60M LINK coins and a maximum supply of 1.00B LINK coins. LINK ranks 21 by market cap. It has a 24H high of $7.56 recorded on 22 mars 2023, and its 24H low so far is $6.92, recorded on 22 mars 2023.
What Is the Highest Price of LINK?
LINK has an all-time high (ATH) of $52.70 , recorded on 10 mai 2021.
What Is the
Lowest
Price of
LINK?
LINK has an all-time low (ATL) of $0.148183, recorded on 29 nov. 2017.
About Chainlink (LINK)
What Is Chainlink (LINK)?
Chanlink (LINK) is a decentralized network that aims to build a bridge between the world of blockchains and fiat currency payment service providers such as Visa, Wells Fargo and HSBC.
It addresses a problem that's long been present, especially in the execution of smart contracts: Often, digital contracts are linked to certain conditions that must be available through independent and trustworthy sources. The Chainlink network provides a solution for this based on blockchain technology using oracles and giving users the chance to become node operators.
The decentralized network can be understood as a kind of interface between data suppliers and data recipients where it allows blockchains to interact with external data feeds, events and payment methods. Their oracle network provides off-chain data used for the execution or as part of smart contracts, making an important contribution to smart contracts on all major blockchains.
What Is LINK?
LINK is an ERC-677 token native to the Chainlink blockchain. It functions just like the ERC20 token standard and enables token transfers to contain a data payload.
Uses of LINK
In Chainlink's ecosystem, LINK is used to pay data providers on the network for their work. The data purchaser transfers the token to the data provider, with the tokens using smart contracts by the data providers as a security deposit.
If incorrect (or no) data is provided, the deposited assets are used as security for compensation payments to the data recipients. The more collateral a data provider has, the higher the likelihood of selecting data recipients.
Data providers can borrow additional LINK tokens to increase their security pools. Staking services offer the tokens, and the data providers earn a percentage share of the revenue earned from the data sales. Data providers thus achieve a competitive advantage in direct competition with others. Due to their higher collateral, they're automatically considered safer as compared to other suppliers.
Who Is the Founder of Chainlink (LINK)?
Chainlink was founded in September 2014 by Ari Juels, Steve Ellis and Sergey Nazarov. However, its operations only began in June 2017.
Ari Juels is the chief scientist at Chainlink and is also a professor at Cornell University. He specializes in blockchain technology, applied cryptography and cloud security. Steve Ellis is one of the founding members of the Chainlink team, and is also the CTO and co-founder at Chainlinnk Labs, formerly known as SmartContract. Sergey Nazarov is an entrepreneur who is widely known for being the co-founder of Chainlink Labs and CryptaMail.
How Does Chainlink (LINK) Work?
Chainlink is an interface that connects smart contracts to extensive data sources. It provides relevant data that's necessary as part of smart contracts. Chainlink now has numerous connections to other smart contract platforms, and is considered one of the most important technologies in the development of smart contracts. Their fast network provides data of all kinds almost in real time, which is particularly relevant for short-term price forecasts.
Any Ethereum-based project rewards data providers (oracles) for the work over their network. In the long term, the plan is to operate its data marketplaces beyond the Ethereum blockchain.
An important part of Chainlink is the reputation of the transmitted data. Since the authenticity of the oracles' data can never be guaranteed with complete certainty, several independent oracles usually provide data for smart contracts. Chainlink nevertheless continuously checks the reputation of data suppliers and removes unreliable or insecure oracles from the network.
The overall system relies on reliable oracles, so Chainlink continuously checks data suppliers according to their specified criteria. The result is an availability assessment that classifies the individual oracles.
The criteria include, for example, the time it takes for requested data to be delivered to the smart contracts. This evaluation results in a hierarchy of data providers, so that reliable suppliers are better paid for their services. Sensitive smart contracts can then be supplied with the data of the best suppliers, while data from cheaper oracles is suitable for less critical contracts.
Why Is Chainlink (LINK) Valuable?
LINK is the native token in the Chainlink blockchain. Its value in the blockchain ecosystem stems primarily from the fact that it solves the oracle problem.
How LINK Tackles "Oracle Problem"
The oracle problem originates from the fact that, at some point, smart contracts have to rely on outside sources to accurately give input data. This may at times give inaccurate input, which could make an entire smart contract faulty. As mentioned previously, Chainlink is to be understood as a kind of interface. But how exactly does the forwarding of data work in practice?
At Chainlink, the connection between oracles and smart contracts is called matchmaking. This matchmaking resembles a requirement specification. The developer of a smart contract defines its requirements for an oracle and presents its contract. Part of these requirements can be the reputation, reliability and frequency of data transmission. The data provider then checks whether it can meet the requirements and, if necessary, accepts the offer.
Chainlink ensures the linking of legacy systems to blockchains. That's because with centralized data sources, the security of smart contracts is no longer given, as the centralized oracle is a point of attack and can be manipulated. That's why there's a need for decentralized oracles.
Chainlink allows the creator of a smart contract to select as many oracles as they want (distributed oracles), as well as how many data sources (distributed sources) and which ones. A company that trades in stocks could, for example, aggregate data from different providers (Reuters, Bloomberg, etc.) and process it further. For binary data sets, it's possible to generate an average and discard outliers. Nodes which provide outliers with data have to accept a fine and a negative rating.
Staking
After years of work on Chainlink 2.0, in which the team has been trying to launch staking on the platform, the road map for it has finally been released. Staking will finally be rolled out in the second half of 2022 for LINK holders, not only to secure the network, but also so that they can earn rewards. This plays a huge role in Chainlink's expansion, and LINK holders can look forward to staking the coins for a 5% interest reward – perfect for passive income.
What Makes Chainlink (LINK) Unique?
Integration Into Network
To fully understand how the LINK token ensures integration into the Chainlink blockchain, we need to understand how the data for the smart contracts is provided.
The name "oracle" is derived from the myths of Greek history, meaning an all-knowing person who could channel important information from a higher power. The oracle technology of Chainlink also works according to this principle. The data providers receive the requests of the smart contract developers, and check to see whether they can retrieve and provide the required information. Chainlink provides a marketplace where blockchain oracles and developers can meet.
The integration of the oracle network is very easy for developers. The respective oracles of the data suppliers can be integrated into your smart contracts via simple code snippets. In return, the data providers receive a reward in the LINK token whenever they provide the requested data. In this context, the developers of Chainlink faced a big problem — because they had to guarantee that the oracles couldn't be bribed. Chainlink compares the values of all oracles when delivering the data in order to find potential fraudsters. Therefore, the use of several oracles is recommended in order to guarantee the quality and accuracy of data.
Key Network Operations
The LINK token is an indispensable part of Chainlink and fulfills several important functions. The more requests that are made over Chainlink's network, the more fees are incurred. This results in value appreciation because the token is limited to a supply of 1 billion. Should blockchain technology continue to gain importance in the future, Chainlink could be an important part of its development.
How Many LINK Tokens Are in Circulation?
At the time of this writing (June 13, 2022), LINK's current price is $5.42, with a 24-hour trading volume of more than $786 million. Chainlink has a live market cap of approximately $2.5 billion, with a circulating supply of 467,009,549.52 LINK coins and a maximum total supply of 1,000,000,000 LINK.
The maximum total supply has remained the same ever since the initial coin offering (ICO) for LINK when it first launched in September 2017.
Based on what was documented in the ICO, the tokens are distributed to node operators, public sale events, and the company to continue developing the Chainlink network, with them receiving 35%, 35% and 30% respectively.
How to Mine LINK
Chainlink uses a proof of stake (PoS) consensus mechanism, since it's an Ethereum-based ERC-677 token. As an added security feature, it also uses zero-knowledge proof to verify that a particular node has made a transaction without revealing further details of the transaction. This is a similar technology used in one of the most popular cryptos, Zcash. The same principle is applied to Chainlink in the interaction of nodes and oracles.
How to Store LINK
Since LINK functions like the ERC20 token, you can use all software and hardware wallets that support Ethereum, such as MetaMask and Trezor. There are also a few Chainlink wallet services that are specifically designed to store and transact LINK tokens along with other major cryptos. Lumi Wallet is an example of one such reliable wallet.
How to Buy LINK
You can buy LINK from any of the top cryptocurrency exchanges, including Bybit.
Buying LINK on Bybit
To purchase LINK on Bybit, simply follow these steps:
Head to the spot trading page of LINK.

Select your trading pair on the left side of the page. For LINK, you can only trade with USDT.

Choose the type of order you'd like to make: Limit Order, Market Order or Conditional Order.
For Limit Orders:
Select Limit.

Enter the order price.

Enter the number of LINK you want to buy.

Click on Buy LINK.

Once you've confirmed that your information is correct, click on Buy LINK.

View your order details under Active on the web page, or Orders if you're using the Bybit app.
For Market Orders:
Select Market.

Enter the amount in USDT that you've paid to buy LINK.

Click on Buy LINK.

Once you've confirmed that your information is correct, click on Buy LINK.

View your order details under Filled.
For Conditional Orders:
Select Conditional.

Enter the trigger price.

Choose to execute at Market Price or Limit Price.

Market Price: Order price need not be set.

Limit Price: Order price needs to be set.

According to order types:

Market Buy: Enter the amount of USDT you've paid to buy LINK.

Limit Buy: Enter the number of LINK you want to buy.

Click on Buy LINK.

Once you've confirmed that the information is correct, click on Buy LINK.

View your order details under Conditional on the web page, and All Orders → Current Orders on the Bybit app.
For more help, you can also visit the Bybit spot trading guide.
How do you feel about Chainlink today?
Vote to see what the community thinks
Follow Us on Social Media
Follow