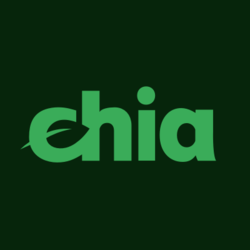 Chia Price
xch
-0.76%
Live
XCH
Price Summary
As of 1 Th06 2023, the global cryptocurrency market cap is $252.51M with a -0.71% change in the last 24 hours. XCH's current price is $33.73, with a 24-hour trading volume of $--. XCH is -0.76% in the last 24 hours, with a circulating supply of 7.49M XCH coins and a maximum supply of -- XCH coins. XCH ranks 142 by market cap. It has a 24H high of $34.32 recorded on 1 Th06 2023, and its 24H low so far is $33.66, recorded on 1 Th06 2023.
What Is the Highest Price of XCH?
XCH has an all-time high (ATH) of $1,645.12 , recorded on 15 Th05 2021.
What Is the
Lowest
Price of
XCH?
XCH has an all-time low (ATL) of $26.27, recorded on 13 Th06 2022.
About Chia (XCH)
What Is Chia Network (XCH)?
XCH is the native cryptocurrency of Chia Network, a Layer 1 blockchain platform designed with an ethos of sustainability and regulatory compliance. Chia mainly targets enterprises and large organizations as its main user groups. The blockchain boasts partnerships with some of the leading financial organizations, such as the World Bank.
Chia puts a fresh spin on the Nakamoto Consensus algorithm used in Bitcoin's proof of work (PoW), with its ASIC-resistant block validation method called Proof of Space and Time (PoST). In PoST, transaction blocks are generated in a process called farming. Chia's farming, which is not to be confused with the farming on decentralized finance (DeFi) protocols, relies on validators using their hard disk space to process transaction blocks.
Compared to PoW, PoST is less energy-intensive, and highly decentralized, as anyone with an internet connection and free disk space can participate in mining. And like PoW, PoST is more secure than proof of stake (PoS), because it's less vulnerable to power usurpation by a small group of nodes with significant coin ownership.
A programmable blockchain, Chia can support decentralized apps (DApps) and mint Chia Asset Tokens (CATs), the fungible tokens of XCH. Chialisp is its programming language, which offers security, ease of auditing the code and other powerful features.
Chia Price (XCH)
In May 2021, XCH was launched and traded between $600 and $700. Within the first fortnight, XCH shot up to its all-time high of $1,645.12. However, that level proved unsustainable. The coin rapidly declined, and by late July 2021, it was down to about $180.
Since then, XCH has been on a slow and steady downtrend. The coin dipped below the $100 mark in December 2021, and below $50 in May 2022.
What Is XCH Used For?
XCH is used for block reward payments and gas fees. DApps on the Chia Network may also use XCH for their own application-specific purposes, such as NFT trading.
The primary function of XCH is paying validators (or farmers, using Chia's terminology) for their block-processing activity. Farming rewards on Chia are halved approximately every three years.
Typical gas fees on Chia are nearly always under $1. Depending on the network activity, the fee could be anything between a few cents and a few tens of cents.
Chia (XCH) Tokenomics
XCH has a total supply of about 26.4 million, considerably lower than the supply figures for the majority of other cryptos. The coin's circulating supply is 5.4 million. XCH's supply is not capped. The coin features a reward-halving mechanism similar to the one implemented by Bitcoin, although Bitcoin's mining rewards are halved every four years, as compared to Chia's three.
XCH's approximate halving schedule for farming rewards is as follows:
• 2021–2024: 2 XCH
• 2025–2027: 1 XCH
• 2028–2030: 0.5 XCH
• 2031–2033: 0.25 XCH
• 2034 and later: 0.125 XCH
Who Is the Founder of Chia Network (XCH)?
American computer scientist Bram Cohen, well known for authoring the hugely popular BitTorrent file exchange protocol, founded Chia Network.
Read more: Chia Crypto: Is It Truly a Greener Alternative to Bitcoin?
How to Store XCH
The two wallets most recommended for storing XCH are Chia Official Light Wallet and Goby. Others with XCH support include Pawket, Arbor Wallet and Nucle.
How do you feel about Chia today?
Vote to see what the community thinks
Follow Us on Social Media
Follow