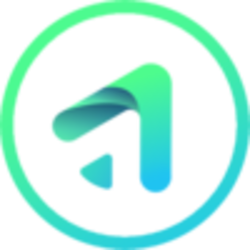 Gains Network Price
gns
+4.86%
Live GNS Price Summary
As of 2023年3月23日, the global cryptocurrency market cap is $248.46M with a +5.19% change in the last 24 hours. GNS's current price is $8.15, with a 24-hour trading volume of $--. GNS is +4.86% in the last 24 hours, with a circulating supply of 30.44M GNS coins and a maximum supply of 30.44M GNS coins. GNS ranks 164 by market cap. It has a 24H high of $8.39 recorded on 2023年3月23日, and its 24H low so far is $7.68, recorded on 2023年3月23日.
What Is the Highest Price of GNS?
GNS has an all-time high (ATH) of $12.48 , recorded on 2023年2月17日.
What Is the Lowest Price of GNS?
GNS has an all-time low (ATL) of $0.265841, recorded on 2021年11月29日.
About Gains Network (GNS)
What Is Gains Network?
Gains Network is classified as a DeFi ecosystem consisting of various products on the Arbitrum and Polygon chains. Its most distinct feature is gTrade, a decentralized leveraged trading platform that facilitates both non-crypto and crypto trades.
Gains Network (GNS) Price
Gains Network was launched in January 2021 but its native token, GNS, was only introduced on Oct 27, 2021. This is because Gains Network originally used a token called GFARM2 on Ethereum. Users who held GFARM2 at the time could exchange their tokens at a 1:1,000 ratio, which meant that they could receive 1,000 GNS tokens for every GFARM2 token migrated.
At launch, Gains Network had a price of $1.06. Despite its price dipping initially to a low of $0.48, GNS quickly gained traction and hit its first peak of $4.92 on Jan 10, 2022. This price rally was attributed to Gains Network's announcement that it was receiving a $250,000 grant from Polygon for two trading contests on Jan 5, 2022. GNS then declined steadily, finding support around the $2 mark by March before hitting its next peak of $3.42 on Apr 18. Its price declined once again and hit a new low of $0.59 on May 29, 2022, following news of the Terra Luna crash, which caused the entire crypto market to dip. GNS ranged between $0.59 and $0.84 until July 2022, when it rallied once more to hit a lower peak of $2.75 on Aug 12, likely due to Gains Network's introduction of its GNS staking program and its new referral system.
The Gains Network price faltered to $1.53 by September, but it quickly recovered to hit another high of $4.19 on Dec 1. Its price then shot up to $12.48 on Feb 17, 2023, following announcements by Binance and Bybit that they would be listing the GNS token on their exchanges.
What Is GNS Used For?
GNS is a governance and utility token for the central Gains Network platform. The liquidity efficiency of its central DAI vault is maintained by rewarding NFT bots and affiliates with GNS tokens. This helps stabilize the vault against drawdowns, ensuring the long-term sustainability of its overcollateralization. Furthermore, when overcollateralization reaches a suitable level for DAI stakers, any remaining GNS is burned to prevent inflation from NFT bot and affiliate rewards.
This system also promotes community support by discouraging large investors from diluting potential platform interests later on. In addition, in the event that traders win big on gTrade, newly minted GNS can recollaterize the gDAI vault at a maximum inflation rate of 18.25%.
Lastly, the GNS token is also used to govern Gains Network.
Gains Network (GNS) Tokenomics
GNS is Gains Network's native token. It serves as a deflationary utility token, using the efficiency of its liquidity to support the gTrade platform's operation. GNS has a total and maximum supply of 30.39 million tokens and a circulating supply of approximately 30.5 million tokens, with a market capitalization of $259.9 million and a 24-hour trading volume of $10.7 million.
Who Is the Founder of Gains Network (GNS)?
With a team composed of 14 members, the founder of Gains Network has remained anonymous, known only as Seb. The founder will maintain control of the protocol until there's a transition to a DAO system.
Read more: Gains Network (GNS): Boosting Gains with DeFi Leveraged Trading
How to Store GNS
GNS can be stored on Trust Wallet, with even more options becoming available soon.
Where to Buy GNS
You can buy GNS from any top crypto exchange, including Bybit. On Bybit, you can trade GNS as a USDT Spot pair (GNS/USDT).
How do you feel about Gains Network today?
Vote to see what the community thinks
Follow Us on Social Media
Follow