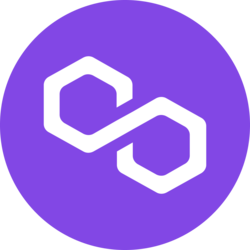 Polygon Price
matic
+0.08%
Live
MATIC
Price Summary
As of 4 de oct de 2023, the global cryptocurrency market cap is $5.41B with a +3.72% change in the last 24 hours. MATIC's current price is $0.568191, with a 24-hour trading volume of $--. MATIC is +0.08% in the last 24 hours, with a circulating supply of 9.30B MATIC coins and a maximum supply of 10.00B MATIC coins. MATIC ranks 13 by market cap. It has a 24H high of $0.593423 recorded on 4 de oct de 2023, and its 24H low so far is $0.552339, recorded on 4 de oct de 2023.
What Is the Highest Price of MATIC?
MATIC has an all-time high (ATH) of $2.92 , recorded on 27 de dic de 2021.
What Is the
Lowest
Price of
MATIC?
MATIC has an all-time low (ATL) of $0.00314376, recorded on 10 de may de 2019.
About Polygon (MATIC)
What is Polygon?
Polygon is a scaling solution that offers tools for increasing the speed on the blockchain, while decreasing the cost and complexity of transactions. It helps solve key challenges faced by Ethereum, such as low transaction throughput, high fees and poor user experience.
Polygon was initially named "Matic Network." As the project's scope expanded, however, it was rebranded to "Polygon," a name many crypto enthusiasts today are familiar with. While Matic Network was a Layer 2 scaling solution for Ethereum, Polygon features the infrastructure necessary to support a network of collaborative and self-sovereign blockchains.
Polygon aims to create "Ethereum's internet of blockchains" — essentially, a multi-chain ecosystem of Ethereum-compatible blockchains. The platform provides an easy-to-use framework that allows developers to create custom Ethereum-compatible blockchains with a simple click.
Polygon envisions the possibility of individual blockchains exchanging value and information freely and easily. Its ultimate goal is to eliminate the technological and ideological differences that separate most existing blockchains.
What Is MATIC?
MATIC is the native token of the Polygon platform. MATIC tokens can be used for payments or stored securely to protect the Polygon network. Since its rebranding in February 2021, MATIC has seen a substantial increase in value due to an uptake in its usage rates.
The MATIC token is available on well-known centralized and decentralized trading exchanges, such as Bybit, Coinbase and Kraken. The process of purchasing MATIC is simple, and it can be purchased with both fiat money and cryptocurrencies.
What Are MATIC Coins Used For?
Polygon's MATIC token is designed to perform various functions, such as:
Sending: Users can buy MATIC online and send it easily to anyone in the world with their Polygon address. Transaction fees on the network are also paid in MATIC tokens.

Payment or Trading: MATIC is a unit of payment on the Polygon network. Users can also trade Polygon for more than 150 cryptocurrencies on secure trading platforms, for example MetaTrader 4 and Libertex.

Staking: MATIC serves as a medium of settlement between users who participate in the operation of the Polygon ecosystem.

Storage: Many users choose to collect and store MATIC, with the expectation that its value may increase. MATIC tokens can be stored securely in a reputable crypto wallet. Hardware wallets such as Ledger or Trezor are preferred, as they provide secure offline storage and backup.
In the future, MATIC might become a financial incentive for users who wish to contribute to the Polygon Network and keep its ecosystem vibrant. For example, they can provide computational resources and services related to block validation and proof publishing to earn MATIC tokens in return.
Who Is the Founder of Polygon?
The original idea for Polygon came from its current CEO, Jaynti Kanani. Back in 2017, Kanani was a data scientist with Housing.com. He was aware of large amounts of congestion and scalability issues on the Ethereum network due to CryptoKitties, a well-known non-fungible token (NFT) project at the time.
To solve the problems he'd observed, Kanani reached out to Sandeep Nailwal, the current business consultant of Polygon, and Anurag Arjun, the current chief product officer. Together, the three partners went on to create MATIC with their operations based in Mumbai, India.
During its initial April 2019 offering, Polygon sold 1.9 billion MATIC tokens, raising the equivalent of $5.6 million in ETH in just 20 days.
Since its inception, Polygon has garnered support from top decentralized finance (DeFi) names including Decentraland and MakerDAO.
How Does Polygon Work?
Polygon is a multi-level platform that aims to scale Ethereum. It uses a variety of sidechains that unclog the main platform with effectiveness and cost efficiency.
The Polygon Network's core is its software development kit (SDK). The SDK is used to create Ethereum-compatible decentralized applications as sidechains, and connect them to the main blockchain.
Polygon's architecture features four layers:
Ethereum layer (optional)

Security layer (optional)

Polygon networks layer (mandatory)

Execution layer (mandatory)
The Ethereum layer is a set of smart contracts implemented on Ethereum. These smart contracts manage transaction finality, staking and communication between Ethereum and various Polygon chains.
The security layer runs alongside Ethereum, offering a "validators-as-a-service" role which allows chains to benefit from an extra security layer.
The Polygon networks layer is the ecosystem of blockchain networks developed on Polygon. Each network has its community that manages local consensus and the production of blocks.
The execution layer is Polygon's EVM implementation, used for executing smart contracts.
Why Is Polygon Valuable?
Polygon is associated with some of the most popular niches in cryptocurrencies: Think DeFi, DAOs (decentralized autonomous organizations), DApps (decentralized applications) and NFTs.
Polygon's tremendous growth can be attributed partially to the popularity surge of the Ethereum network and the adoption of its blockchain. Additionally, cheaper and faster transactions facilitated by Polygon's sidechain architecture have created hype in both price and public perception.
MATIC's price has increased from 0.2 cents in February 2021 to $0.61 at the time of writing of this article (June 24, 2022.)
The growing value of Polygon also seems to have boosted investors' interest in the project. Polygon has collaborated with the Trace Network and announced collaborations with M-Setu by Infosys Ltd. and Google Cloud's BigQuery. The growing demand for scalability networks boosts the possibility of Polygon onboarding even more projects in the future.
Polygon has already achieved a place among the top 15 cryptocurrencies. However, its founders have more ambitious plans of making it the third-largest crypto project after Bitcoin and Ethereum.
What Makes Polygon Unique?
Polygon expands on both the vision and scope of the original Matic Network project by offering tools that developers can use to build ultra-scalable, high-performance blockchains and DApps.
The process of building on Polygon is quite similar to that for Ethereum. Polygon is instantly accessible to the largest community of blockchain developers in the world. Ethereum developers can use Polygon to build highly scalable applications that benefit from Ethereum's network effect, without having to compromise on any other aspects.
Polygon is also unique because it offers support for various scaling mechanisms, which projects can execute at their discretion. This versatile support makes Polygon well-positioned in the event that a scaling solution becomes dominant in the future, or fails to deliver on its promises or serve its purpose.
Ethereum Virtual Machine (EVM)
The Ethereum virtual machine (EVM) is a software platform developers can use to build decentralized applications. The user-friendly nature of EVM has made Ethereum the most popular platform for DApps.
Polygon's compatibility with the EVM allows developers to port their apps to it easily. Many well-known Ethereum apps, including Aave and SushiSwap, have already been deployed on Polygon.
Message-Passing Capabilities
Due to Polygon's arbitrary message-passing capabilities, chains launched on Polygon can communicate with one another and the Ethereum main chain. This ability allows for new use cases, such as interoperable DApps and the exchange of value between different platforms.
Tools Available
Sidechains can be built on Polygon with any of the following construction scalability techniques:
How Many MATIC Coins Are in Circulation?
The current circulating supply of MATIC stands at 8 billion tokens, with a maximum supply of 10 billion.
At its first private sale in 2017, Polygon issued 3.8% of MATIC's maximum supply. In the launchpad sale of April 2019, another 19% of the total supply was sold, when Polygon's price was 0.2 cents per token and $5 million was generated.
The rest of the MATIC tokens are distributed as follows:
Team tokens: 16% of the total supply

Advisors tokens: 4% of the total supply

Network Operations tokens: 12% of the total supply

Foundation tokens: 21.87% of the total supply

Ecosystem tokens: 23.33% of the total supply
New MATIC tokens are released every month. Per the latest release schedule, all MATIC tokens will be released by December 2022.
How to Store MATIC
You can choose from three types of crypto wallets to store your MATIC tokens:
Online wallets (hot wallets): Online wallets can be accessed using a web browser. However, they tend to be prone to hacking.

Software wallets: Software wallets are easier to use than hardware wallets, and can be downloaded onto a smartphone or computer.

Hardware wallets (cold wallets): Hardware wallets are perfect for safe offline storage and backup. The downside is that they may be expensive and not very user-friendly. Hardware wallets are recommended for experienced users looking to store large amounts of MATIC coins.
Where to Buy MATIC
You can buy MATIC from any top crypto exchange, including Bybit.
How to Buy MATIC on Bybit
To purchase MATIC on Bybit, simply follow these steps:
Head to the spot trading page of MATIC.

Select your trading pair on the left side of the page. For MATIC, you can choose to trade with USDT and BTC.

Choose the type of order you'd like to conduct: Limit Order, Market Order or Conditional Order.
For Limit Orders:
Select Limit.

Enter the order price.

Enter the amount of MATIC you wish to buy.

Click on Buy MATIC.

Once you've confirmed that your information is correct, click on Buy MATIC.

View your order details under Active on the web page, and Orders if you're using the Bybit app.
For Market Orders:
Select Market.

Enter the amount of USDT you've paid to buy MATIC.

Click on Buy MATIC.

Once you've confirmed that your information is correct, click on Buy MATIC.

View your order details under Filled.
For Conditional Orders:
Select Conditional.

Enter the trigger price.

Choose to execute at Market Price or Limit Price.

Market Price: Order price need not be set.

Limit Price: Order price needs to be set.

According to order types:

Market Buy: Enter the amount of USDT you've paid to buy MATIC.

Limit Buy: Enter the amount of MATIC you want to buy.

Click on Buy MATIC.

Once you've confirmed that the information is correct, click on Buy MATIC.

View your order details under Conditional on the web page, or under All Orders → Current Orders on the Bybit app.
For more help, you can also visit the Bybit spot trading guide.
How do you feel about Polygon today?
Vote to see what the community thinks
Follow Us on Social Media
Follow