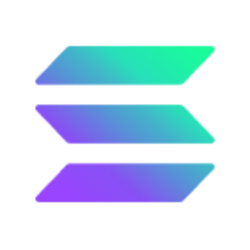 Solana Price
sol
-1.80%
Live
SOL
Price Summary
As of 10 груд 2023 р., the global cryptocurrency market cap is $31.20B with a -1.98% change in the last 24 hours. SOL's current price is $73.16, with a 24-hour trading volume of $--. SOL is -1.80% in the last 24 hours, with a circulating supply of 426.08M SOL coins and a maximum supply of -- SOL coins. SOL ranks 6 by market cap. It has a 24H high of $74.50 recorded on 10 груд 2023 р., and its 24H low so far is $71.10, recorded on 10 груд 2023 р..
What Is the Highest Price of SOL?
SOL has an all-time high (ATH) of $259.96 , recorded on 6 лист 2021 р..
What Is the
Lowest
Price of
SOL?
SOL has an all-time low (ATL) of $0.500801, recorded on 11 трав 2020 р..
About Solana (SOL)
What Is Solana?
Solana is a permissionless and open-source web-scale blockchain that provides a wealth of innovative decentralized finance (DeFi) solutions. The first blockchain to feature a decentralized clock, it solves scalability issues and presents itself as one of the most effective blockchains in the cryptocurrency market.
According to Solana's developers, Solana is the fastest global blockchain, supporting non-fungible token (NFT) smart contracts and other decentralized finance platforms. At present, Solana has over 400 projects in its ecosystem. Its developers claim that Solana supports block times as short as 400 milliseconds, and up to 50,000 transactions per second (TPS).
Solana uses various groundbreaking computational technologies, such as Tower BFT, Sealevel and Turbine to manage thousands of nodes, allowing transaction throughput to grow in proportion to the network's bandwidth. The project also adopts the proof of history (PoH) and proof of stake (PoS) consensus mechanisms to enhance throughput and scalability.
What Is SOL?
SOL is the native cryptocurrency of Solana. It can be used to pay transaction fees and interact with smart contracts. The Solana network burns tokens as a deflationary policy. By holding SOL tokens, a user can join the network as a validator.
At present, SOL is one of the top cryptocurrencies with respect to market capitalization and return on investment (ROI). As of this writing (June 13, 2022), SOL ranks 9th on CoinMarketCap's top market capitalization cryptocurrency list. As of this writing, SOL has a market cap of around $10 million, and 1 SOL is priced at $29.16.
What Is SOL Used For?
Solana incorporates an app-building platform with its native digital currency and blockchain to help developers build apps and avoid troublesome app stores. It currently supports C, C+ and Rust programming languages.
Solana might also solve the problem of microtransactions. To be profitable, in-app purchases require users to spend a certain amount with their credit cards. Since Solana transactions cost only a fraction of a cent, they can potentially help improve the in-app purchase landscape.
Solana-based games and applications may also feature player-to-player markets, as with online games and ecosystems such as the music-streaming platform Audius. Audius promises a fair compensation model for recording artists using the Solana blockchain.
Using a crypto wallet, you can also use SOL to purchase a Solana-based NFT through marketplaces like Solanart and DigitalEyes Market. Solanart offers NFTs from various collections, including Degenerate Ape Academy, Auroray and SolPunks. Similarly, DigitalEyes Market carries NFTs from the Degenerate Ape Academy collection, but also several others including Frakt, the fractal artwork series.
It's easy to buy NFTs through either marketplace: Simply connect your wallet to the site, click to purchase, and then approve the transaction from your wallet. Most users prefer to buy NFTs on Solana rather than other platforms like Ethereum, due to the former's low transaction cost and high processing speed.
Who Is the Founder of Solana (SOL)?
Solana was created by Anatoly Yakovenko, a software engineer with an extensive tech background. Yakovenko started this project and founded Solana Labs with a core team including former Qualcomm colleagues Stephen Akridge and Greg Fitzgerald, and several others.
The Solana network's white paper was issued to the public in 2017. Initially, five rounds of initial coin offerings (ICOs) were held, helping Solana collect over $25 million to launch the SOL token across major cryptocurrency exchanges.
How Does Solana Work?
Solana is a cryptocurrency platform that, like Ethereum, creates and runs DApps, such as Degenerate Apes and the Serum-based decentralized exchange (DEX). A third-generation PoS consensus blockchain, it has 200 unique nodes and a 50,000 TPS throughput with GPUs.
Solana's Tower BFT consensus allows the network to reach an agreement despite potential attacks from malicious nodes. It also imposes a standardized time source to create a uniform blockchain record of events and transactions across the network. The system uses these records as permanent references for all of the network's nodes.
Solana's Tower BFT synchronizes time across nodes, optimizing speed to 65,000 TPS. For reference, this is approximately 4,000 times faster than Ethereum, 10,000 times faster than Bitcoin and about 2.5 times faster than Visa.
Solana has, however, experienced several outages this year, the latest of which occured on June 1, 2022. Understandably, this raises concerns about the platform's stability and ability to perform, especially considering Solana's nickname, "Ethereum Killer."
Why Is Solana Valuable?
Solana is among the few protocols achieving over 1,000 TPS, making it the most scalable, truly "web-scale" blockchain in the world. With over 200 nodes on the current testnet, Solana is also the most performant blockchain network.
Solana claims to support over 50,000 TPS. In comparison, proof-of-work-based (PoW) systems like Bitcoin manage roughly 7 TPS, while Ethereum averages around 15 to 25 TPS. This makes Solana approximately 10,000 times faster than Bitcoin and 4,000 times faster than the current Ethereum network.
What Makes Solana Unique?
One of the biggest innovations Solana offers is the PoH consensus. This concept enables greater protocol scalability, which then boosts usability.
Solana is well-known for its incredibly short processing times, which has attracted a great deal of institutional interest. Solana's hybrid protocol also significantly reduces validation times for executing smart contracts and transactions.
The Solana protocol is ideal for both small-time users and enterprise customers. It offers low transaction costs while ensuring fast processing and scalability. Solana has promised not to increase fees without notifying its users in advance.
Speed
Solana's network is known to be both faster and more scalable than other similar projects like Ethereum. It can process transactions as they arrive, without long waiting periods or competition concerning which transactions get processed first. Solana claims it can process at least 50,000 TPS with an average block time of 600 milliseconds, unlike Ethereum's processing capacity of 15–45 transactions per second. Solana's developers also state that, in due time, their systems will improve enough to process up to 710,000 TPS.
Latency
Solana's transaction latency is approximately 4 seconds, Binance Smart Chain (BSC)'s around 75 seconds, and Ethereum's approximately 5 minutes.
Lower latency and faster liquidations mean that Solana's lower collateralization ratios can be safely used to ensure greater capital efficiency. If the same collateralization ratios (as opposed to slower L1s) are used, projects on Solana will be less susceptible to cascading liquidations. As a result, liquidations can be processed faster, leverage can be adjusted, and margin calls can be topped up more quickly, resulting in fewer liquidations overall.
Low-Cost Transactions
Solana's network averages $0.00025 per transaction — one of the lowest fees in the crypto space. For reference, a $1 million transaction would cost around $10 in fees on Solana. The same transaction would cost anywhere between $14,300 and $24,000 on Visa.
How Many SOL are in Circulation?
The total supply of SOL stands at 512 million (accurate as of June 13, 2022). At present, approximately 342 million tokens (around 67%) have already entered the market.
Here's the breakdown of how SOL is distributed:
16.23%: Initial seed sale
12.92%: Dedicated to a founding sale
12.79%: Distributed among team members
10.46%: Given to The Solana Foundation
Remaining tokens: Released for public and private sales, or yet to be released into the market.
It's impossible to mine SOL, since its blockchain isn't based on the PoW consensus. You can only purchase SOL on exchanges, or earn it via staking mechanisms.
You can stake SOL on the FTX platform for 6% APR rewards, which come in the form of SOL. Though you can choose to unstake it anytime before its redemption date, you'll have to either fork out a 10% penalty or wait at least 7 days.
How to Store SOL
Before investing in Solana, it's important to consider where you'll be storing your tokens. We do not recommend keeping your SOL tokens on an exchange, as exchanges tend to be targeted by cryptocurrency hackers.
Considering the high hacker infiltration rates of late, one should only store SOL on an exchange for short-term trading. The best solution would be to store SOL in a hardware or software crypto wallet.
Software wallets are free applications that allow you to store crypto on a PC or mobile device. If you prefer web wallets, you can go for Solflare, Sollet or Phantom. If you wish to use a mobile app wallet, you can download Exodus, Trust Wallet, Coin98 or Zelcore.
Hardware wallets store assets offline on a physical device, making them the most secure choice for long-term investments. Ledger Nano S and Nano X are good hardware wallet options for long-term offline storage of SOL.
Where to Buy SOL
You can buy SOL from any top crypto exchange, including Bybit.
How to Buy SOL on Bybit
To purchase SOL on Bybit, simply follow these steps:
Head to the spot trading page of SOL.

Select your trading pair on the left side of the page. For SOL, you can choose to trade with USDT, BTC or USDC. You can also trade SOL3L and SOL3S with USDT.

Choose the type of order you'd like to conduct: Limit Order, Market Order or Conditional Order.
For Limit Orders:
Select Limit.

Enter the order price.

Enter the amount of SOL you wish to buy.

Click on Buy SOL.

Once you've confirmed that your information is correct, click on Buy SOL.

View your order details under Active on the web page, and Orders if you're using the Bybit app.
For Market Orders:
Select Market.

Enter the amount of USDT you've paid to buy SOL.

Click on Buy SOL.

Once you've confirmed that your information is correct, click on Buy SOL.

View your order details under Filled.
For Conditional Orders:
Select Conditional.

Enter the trigger price.

Choose to execute at Market Price or Limit Price.

Market Price: Order price need not be set.

Limit Price: Order price needs to be set.

According to order types:

Market Buy: Enter the amount of USDT you've paid to buy SOL.

Limit Buy: Enter the number of SOL you want to buy.

Click on Buy SOL.

Once you've confirmed that the information is correct, click on Buy SOL.

View your order details under Conditional on the web page, and All Orders → Current Orders on the Bybit app.
For more help, you can also visit the Bybit spot trading guide.
How do you feel about Solana today?
Vote to see what the community thinks
Follow Us on Social Media
Follow