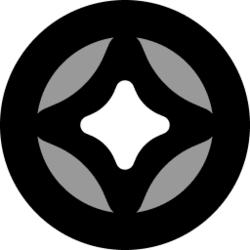 Stargate Finance Price
stg
-2.98%
Live STG Price Summary
As of 10 дек. 2023 г., the global cryptocurrency market cap is $114.07M with a -2.88% change in the last 24 hours. STG's current price is $0.557567, with a 24-hour trading volume of $--. STG is -2.98% in the last 24 hours, with a circulating supply of 204.35M STG coins and a maximum supply of 1.00B STG coins. STG ranks 318 by market cap. It has a 24H high of $0.575099 recorded on 10 дек. 2023 г., and its 24H low so far is $0.547912, recorded on 10 дек. 2023 г..
What Is the Highest Price of STG?
STG has an all-time high (ATH) of $4.14 , recorded on 2 апр. 2022 г..
What Is the Lowest Price of STG?
STG has an all-time low (ATL) of $0.337788, recorded on 19 авг. 2022 г..
About Stargate Finance (STG)
What Is Stargate Finance (STG)?
Stargate Finance (STG) is a fully developed cross-chain platform used for transferring native-level cryptocurrencies between a number of blockchains in a single transaction. To transfer funds between chains, users customarily have to convert their coins into the native format of the recipient network. Stargate Finance offers a composable native asset bridge that removes the cumbersome and error-prone conversion process by enabling a 1:1 transfer and swap of assets at the native level.
For example, you can use the Stargate Finance bridge to swap your USDT coins held on the Ethereum (ETH) blockchain with either the same coin, USDT or a different stablecoin, such as USDC held on Fantom (FTM). The transfer is nearly instantaneous and involves minuscule protocol fees. You'll get your target coin in Fantom's native-supported format.
Stargate Finance is available for efficient cross-chain transfers and swaps across seven platforms: Ethereum, BNB Chain, Fantom, Polygon, Avalanche, Arbitrum and Optimism.
The platform was launched in March 2022. STG, its native cryptocurrency, is an omnichain fungible token (OFT), available in the ERC20 standard and the BEP20 standard.
What Is STG Used For?
On Stargate Finance, the token's main functions are liquidity provision to the protocol's pools, yield farming, staking and governance.
Liquidity providers contribute funds to the Stargate Finance pools linked to the chains serviced by the protocol. By providing liquidity, you'll earn a share of the protocol fees from the swap and transfer operations, and liquidity pool tokens (LP tokens) that you can further reinvest on Stargate Finance's yield farms for additional STG rewards. Thus, one investment earns you crypto income from two sources simultaneously.
You can also stake STG on the platform to earn rewards in veSTG, the Stargate protocol governance token. The veSTG token is used for governance voting on all key matters involving Stargate Finance, and the protocol is completely governed by veSTG holders.
Stargate Finance (STG) Price and Tokenomics
Launched in mid-March 2022 at a price slightly above $1, the token's price quickly surpassed $4 by early April 2022. On April 2, STG touched an all-time-high of $4.27. After this initial spurt, the STG token price declined and stayed firm around the 50-cent level until mid-June 2022. Since then, Stargate Finance price has demonstrated a higher level of stability, fluctuating between $0.30 and $0.70.
As of September 2022, STG has a total and max supply of 1 billion tokens, and a circulating supply of about 133 million. The supply of 1 billion STG will be distributed as follows:
17.5% to the project's core team with a mandatory 1-year lockup.

17.5% to Stargate Finance's investors with a required 1-year lockup.

34.61% to incentives designed to stimulate the initial uptake and use of the protocol.

30.39% reserved for future community development initiatives.
Who Is the Founder of Stargate Finance?
Stargate Finance was developed by LayerZero Labs, a blockchain startup founded in Vancouver, British Columbia, Canada, by technology entrepreneurs Bryan Pellegrino, Ryan Zarick and Caleb Banister.
How Does Stargate Finance Work?
Stargate Finance allows cross-chain access of native asset liquidity pools, while simultaneously offering instant guaranteed finality. At the core of Stargate Finance's functionality is its cross-chain Omni Layer 0 protocol, which works across blockchains and algorithmically manages liquidity for the platform. When a transaction is initiated on the source chain, the protocol automatically assigns the required coins and amounts on the destination chain.
All the supported chains share a single liquidity pool which creates unified liquidity, thereby improving capital efficiency. And because cross-chain transfer and conversion isn't necessary, funds at the destination are available almost instantly. Liquidity providers also won't lose income from impermanent loss, and can easily collect fees across all chains.
The operation involves little overhead, with Stargate Finance charging only 0.06% for ETH and stablecoin transfers, and a pool rebalance fee if incurred. Cross-chain transactions with STG are free of charge.
However, gas fees still need to be paid to the underlying blockchain. These fees are always involved in any blockchain transaction, even when the transaction stays within the same chain.
Read more: Stargate Finance (STG): A Fully Composable Native Asset Bridge
How to Store STG
Popular decentralized noncustodial wallets that have STG support for storing your tokens include MetaMask, Atomic Wallet and Trust Wallet. You can also store them in hardware wallets like Ledger Nano S and Ledger Nano X.
Where to Buy Stargate Finance (STG)
You can buy STG from any top crypto exchange, including Bybit. On Bybit, you can trade STG/USDT on the Spot market, and on a perpetual STGUSDT contract.
How do you feel about Stargate Finance today?
Vote to see what the community thinks
Follow Us on Social Media
Follow