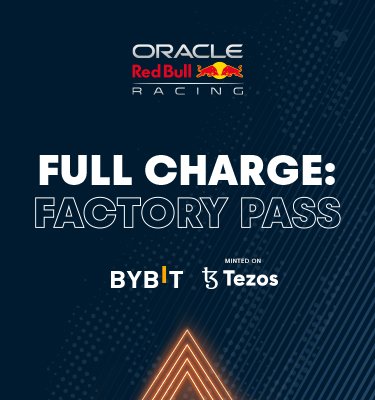 Oracle Red Bull Racing Full Charge: Factory Pass NFT Auction
Gain a once-in-a-lifetime opportunity for you and up to five friends, with exclusive access to the top-secret Operations Room in Oracle Red Bull Racing's UK headquarters.

Experience the magic of what goes on behind the charge:
- One-of-a-kind Full Charge: Factory Pass NFT
- An exclusive opportunity to visit the top-secret Ops Room (with up to 5 friends) in Oracle Red Bull Racing's UK HQ during Free Practice 2 for the 2022 Dutch GP and a full factory tour on Friday, September 2, 2022
- One-hour F1 Esports race training session with Oracle Red Bull Racing Esports Team racers Marcel Kiefer and Sebastian Job

Note: Travel and accommodation costs not included
Oracle Red Bull Racing Full Charge: Factory Pass NFT Auction
Gain a once-in-a-lifetime opportunity for you and up to five friends, with exclusive access to the top-secret Operations Room in Oracle Red Bull Racing's UK headquarters.

Experience the magic of what goes on behind the charge:
- One-of-a-kind Full Charge: Factory Pass NFT
- An exclusive opportunity to visit the top-secret Ops Room (with up to 5 friends) in Oracle Red Bull Racing's UK HQ during Free Practice 2 for the 2022 Dutch GP and a full factory tour on Friday, September 2, 2022
- One-hour F1 Esports race training session with Oracle Red Bull Racing Esports Team racers Marcel Kiefer and Sebastian Job

Note: Travel and accommodation costs not included
About the Full Charge: Factory Pass NFT From Oracle Red Bull Racing
The Full Charge: Factory Pass NFT grants an exclusive Oracle Red Bull Racing Experience. Emerge as a Zandvoort expert as you unlock never-before-seen access to the team's Milton Keynes headquarters.

Details
· A special 1/1 NFT, powered by Tezos, listed on Bybit
· Oracle Red Bull Racing Operations Room Viewing and Esports Experience during second practice for the Dutch GP on Friday, September 2, 2022
· Only the first purchase holder of this NFT will be entitled to receive the Experience. The NFT's utility does not transfer to any secondary market sales
Bidding Period: Aug. 16, 2022, 6AM BST – Aug. 21, 2022, 7PM BST

*The auction will be extended by 15 minutes if the top bidder on the leaderboard changes in the last 30 minutes. In this instance, if the auction has been extended, it will close after a period of 30 minutes with a static leading bid

- The starting price of this auction is 1,000 USDT, with no upper limit
- The minimum markup for each bid is 5% of the current maximum price. You may increase your bid at any time within the auction period. After the bidding is successful, the deposit will be temporarily frozen until there is a higher bid or a successful transaction

* The highest bidder will receive the NFT and the Oracle Red Bull Racing Operations Room Viewing and Esports Experience (the "Experience"). Only the first purchase holder of this NFT will be entitled to receive the Experience. The utility the NFT gives does not transfer with secondary market sales.
How to Bid for the Full Charge: Factory Pass NFT
- Sign up for a Bybit account and log in
- Buy USDT and deposit into your Spot Account. Click here for a step-by-step guide on how to buy USDT with a debit/credit card
- Place your bid order when the auction goes live
- After the auction ends, the winning bidder will be contacted via the stipulated Bybit email address

About Oracle Red Bull Racing
When it comes to innovation, Oracle Red Bull Racing is second to none, and with our range of Digital Collectibles, we're offering our fans new and exciting opportunities with unrivaled utilities and rewards - powered by Tezos, available on Bybit.

New additions to the collection will be available here, so please stop by often — don't miss out!