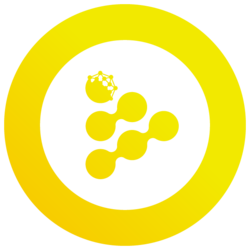 iExec RLC Price
rlc
-1.26%
Live RLC Price Summary
As of 21 Sep 2023, the global cryptocurrency market cap is $74.42M with a -0.92% change in the last 24 hours. RLC's current price is $1.026, with a 24-hour trading volume of $--. RLC is -1.26% in the last 24 hours, with a circulating supply of 72.38M RLC coins and a maximum supply of 87.00M RLC coins. RLC ranks 290 by market cap. It has a 24H high of $1.047 recorded on 21 Sep 2023, and its 24H low so far is $1.022, recorded on 21 Sep 2023.
What Is the Highest Price of RLC?
RLC has an all-time high (ATH) of $15.51 , recorded on 10 Mei 2021.
What Is the Lowest Price of RLC?
RLC has an all-time low (ATL) of $0.153815, recorded on 15 Des 2018.
About iExec RLC (RLC)
What Is iExec (RLC)?
iExec (RLC) is an Ethereum-based app that serves as a decentralized computing resource sharing platform. The blockchain cloud computing company operates its own consensus protocol, proof of contribution (PoCo). This facilitates consensus over off-chain computing, enabling the usage of resources belonging to external resource providers to be validated on the chain. Data is kept private and secure through a trusted execution environment (TEE) that encrypts data.
Users who need access to computing power for their applications and datasets place bids on the network to access the required resources. Another group of users, called workers, sell their spare computing processing power by placing sell orders. By processing the tasks required by bidders, workers earn cryptocurrency rewards.
Workers executing processing tasks are free to set their own rates. The entire platform, known as the Web3 Marketplace, acts as a decentralized marketplace for computing resources.
While the marketplace is the main product on the platform, iExec offers other products as well. These include a tool to create blockchain oracles (without needing programming skills), as well as a suite of consulting services designed for enterprise-level applications.
The platform's native cryptocurrency is RLC, an ERC-20 standard token on Ethereum.
iExec (RLC) Price
The RLC token was launched in April 2017, initially trading at slightly under $0.30. Until December 2017, the token remained below the $1 mark, except for an outlier one-day spike to over $3 on October 16, 2017. Around mid-December, RLC set out on its first significant growth pattern, reaching $4.05 by mid-January 2018.
However, with the arrival of 2018's crypto winter, the token lost all of its previous gains and dropped to an all-time low of $0.15 by mid-December. After that low point, RLC's price slowly recovered to somewhat higher levels.
In April 2021, RLC rose to nearly $3 as a precursor to its highest-ever spike, which started in early May 2021. The token reached an all-time high of $15.51 on May 10, a stratospheric rise which, unfortunately, was short-lived. By the end of the month, RLC had fallen below $5.
The downward pattern continued through 2022, with RLC's price falling below $1 by mid-May. The token has largely hovered around the $1 mark till the end of the year. From early January 2023, the token started rallying to reach $1.50.
What Is RLC Used For?
RLC's primary function on iExec is enabling the processing power trade that acts as the backbone of the web3 marketplace. Workers who take on processing tasks are paid in RLC tokens for completing their jobs. They first need to stake RLC as a form of security deposit for ensuring the integrity of the platform.
RLC is also used as a reward for its Developer Rewards and Community Rewards programs, which reward developers who create DApps using the iExec tech stack and RLC token, and its most active community members, respectively.
Outside of iExec, RLC may also be used for liquidity mining in various pools on some popular decentralized finance (DeFi) protocols, such as Uniswap and Bancor.
iExec (RLC) Tokenomics
RLC has a maximum and total supply of nearly 87 million tokens. Its supply distribution is as follows:
17.2% — Founders, team and early adopters

6.9% — Contingency

6.9% — Bounty and R&D

69% — Crowd sale
Who Is the Founder of iExec (RLC)?
iExec was founded by Gilles Fedak and Haiwu He. Fedak is the project's CEO, while He heads the APAC region.
How to Store RLC
RLC may be stored in MetaMask, Trust Wallet, Proton Wallet, Lumi Wallet and Exodus Wallet. For added security, you may store your RLC in a cold wallet, such as Ledger or Trezor.
How do you feel about iExec RLC today?
Vote to see what the community thinks
Follow Us on Social Media
Follow