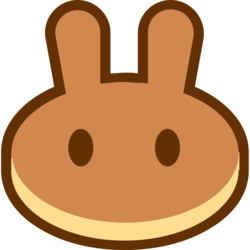 PancakeSwap Price
cake
-1.98%
Live
CAKE
Price Summary
As of 2023年9月22日, the global cryptocurrency market cap is $248.50M with a -2.05% change in the last 24 hours. CAKE's current price is $1.15, with a 24-hour trading volume of $--. CAKE is -1.98% in the last 24 hours, with a circulating supply of 216.44M CAKE coins and a maximum supply of 750.00M CAKE coins. CAKE ranks 121 by market cap. It has a 24H high of $1.18 recorded on 2023年9月22日, and its 24H low so far is $1.14, recorded on 2023年9月22日.
What Is the Highest Price of CAKE?
CAKE has an all-time high (ATH) of $43.96 , recorded on 2021年4月30日.
What Is the
Lowest
Price of
CAKE?
CAKE has an all-time low (ATL) of $0.194441, recorded on 2020年11月3日.
About PancakeSwap (CAKE)
What Is PancakeSwap?
PancakeSwap is an automated market maker (AMM) and a decentralized exchange (DEX) on the BNB Chain (formerly, Binance Smart Chain) that offers a wide range of decentralized finance (DeFi) services — coin swaps, yield farming, liquidity mining and more. It's the world's most popular decentralized app (DApp) by number of active users, averaging two million each month, far more than any other DApp in existence.
PancakeSwap was launched in September 2020 as a decentralized exchange (DEX) platform. It immediately proved to be a strong competitor to the Ethereum-based Uniswap (UNI), the dominant DEX at the time. Since Binance Smart Chain enjoyed very low transaction costs compared to Ethereum, PancakeSwap was able to quickly gain popularity and wrestle market share away from Uniswap and another large Ethereum-based DEX, SushiSwap (SUSHI).
PancakeSwap isn't limited to just coin swapping and trading operations. It could be described as a comprehensive DeFi platform offering coin swaps, staking and liquidity pools, yield farms and regular lotteries among its services.
What Is CAKE?
CAKE is the native token of the PancakeSwap platform. It's based on the BNB Chain's BEP-20 token standard, the chain's default standard for fungible tokens. During CAKE's first months on the market in late 2020, the token was trading at around the $0.50 mark. It first rose above $1 in January 2021, and appreciated strongly over the following three months on the back of the overall crypto market's rise.
What Is CAKE Used For?
The CAKE token has several functions on the PancakeSwap platform. These include governance, staking, and serving as the main utility crypto for the PancakeSwap lottery.
CAKE was introduced at the platform's launch primarily for governance. Holders of CAKE tokens may vote on important decisions concerning PancakeSwap's future development.
The more CAKE you hold, the higher your voting power. PancakeSwap has a set of specific rules that determine whether your CAKE counts toward your voting power. Only CAKE held in either Syrup Pools, the CAKE/BNB liquidity pool or your on-platform wallet will contribute to your voting eligibility and power.
The CAKE token is also used for staking. In PancakeSwap's terminology, staking refers to depositing your CAKE or other tokens to the protocol to earn interest.
The CAKE token is also required to participate in the platform's regularly run lottery program. Each lottery ticket costs an equivalent of $5 paid in CAKE. The lottery winnings are also paid out in CAKE.
PancakeSwap Price and Tokenomics
In late April 2021, CAKE's price reached its all-time high of $44.18 before declining to around $12 by late July. Between August 2021 and June 2022, CAKE was largely on a downtrend, dropping to $3 by late June. Thanks to the overall crypto market's recovery that started around that time, the token has appreciated slightly, trading at around $4 in August 2022 with a market cap of around $655 million.
CAKE has a maximum supply of 750 million, with its total supply at approximately 323 million. The token's current circulating supply stands at around 164 million CAKE (as of August 2022).
Who Is the Founder of PancakeSwap?
PancakeSwap was founded by a group of anonymous developers who have decided not to reveal their identities as of yet. They're collectively known as the Kitchen Team, with all contributing members known as chefs. Chef Hops was the Head Chef who helped in the founding of PancakeSwap. He has since stepped back to be the adviser instead, with Chef Snowball taking over to lead the team.
While the team remains anonymous, PancakeSwap has been audited by several major blockchain security companies such as CertiK and SlowMist.
How Does PancakeSwap Work?
PancakeSwap has four main products: Coin swaps, liquidity mining, yield farming and staking. The platform is best known for its affordable coin swap opportunities. A large number of crypto pairs can be swapped via the platform's default DEX operation, which is based on the automated market maker (AMM) model. The transaction fee for each swap is 0.25%. Around two-thirds of the fee, 0.17%, goes to liquidity miners who contribute funds to the swap pool.
In addition to the 0.17% fee, liquidity providers receive liquidity provider tokens (LP tokens) which may be reinvested for yield farming on the platform. The LP tokens are synthetic assets that represent your share of funds in the swap pool. They can be added to the numerous coin-pair Farms on PancakeSwap to earn interest. Each Farm usually represents the respective coin-pair pool on the DEX. Only the exact LP token matching the coin pair in the Farm is accepted for staking.
Another popular product on the platform is staking, which involves investing in the CAKE Syrup Pool through either flexible staking or fixed-term staking to earn CAKE rewards. The SYRUP tokens you receive act as IOUs for your stake, which will be returned to the pool immediately after you've unstaked your CAKE. You can also choose to invest other tokens into other Syrup Pools.
How to Use PancakeSwap
To use PancakeSwap, head over to PancakeSwap.finance. In the top right corner of the homepage, you'll see the Connect Wallet button. Upon clicking, you'll be given a choice of several popular wallets to use. These include MetaMask, Binance Chain Wallet, Trust Wallet, and other options.
Connect your wallet to use the platform for swaps and other DeFi operations. If you'd like to earn rewards from liquidity mining, you'll need to provide an equal value of both coins for each swap pool. The most actively used pools on the platform are CAKE/BNB and CAKE/BUSD.
The LP tokens you get from providing liquidity can then be used in the corresponding coin-pair Farm. Thus, your investment can generate yield simultaneously from two sources — the swap pool and the corresponding Farm.
What Makes PancakeSwap Unique?
Affordable coin swap operations
Since transaction fees on the BNB chain are much lower than on Ethereum, you can benefit from very affordable coin swap rates.
Wide selection of DeFi products
As PancakeSwap is the most popular DeFi platform, it features a wide selection of coins, farms and pools for your swap operations or yield-earning investments.
A popular lottery program
PancakeSwap runs a lottery program that's among the most popular in the industry. Each ticket is only $5 (paid in CAKE), and you can earn big rewards in CAKE tokens if you're lucky. The lottery is a great way to add some fun to your regular platform usage.
How to Store CAKE
The CAKE token is based on one of the most widely supported token standards, BEP-20. Virtually all the leading wallets– MetaMask, MathWallet, Trust Wallet, Binance Chain Wallet and many others — support this standard and can thus be used to store CAKE.
Where to Buy PancakeSwap (CAKE)
You can buy CAKE from any top crypto exchange, including Bybit.
How to Buy PancakeSwap (CAKE) on Bybit
To purchase CAKE on the Bybit exchange, follow these simple steps:
Head to Bybit's spot trading page (Home → Trade → Spot Trading).

Select the CAKE/USDT pair on the left side of the page.

Choose the type of order you'd like: Limit Order, Market Order or Conditional Order.
For Limit Orders:
Select Limit.

Enter the order price.

Enter the number of CAKE you wish to buy.

Click on Buy CAKE.

Once you've confirmed your information is correct, click on Buy CAKE.

View your order details under Active on the web page, or Orders if you're using the Bybit app.
For Market Orders:
Select Market.

Enter the amount in USDT you've paid to buy CAKE.

Click on Buy CAKE.

Once you've confirmed your information is correct, click on Buy CAKE.

View your order details under Filled.
For Conditional Orders:
Select Conditional.

Enter the trigger price.

Choose to execute at Market Price or Limit Price.

Market Price: Order price doesn't need to be set.

Limit Price: Order price needs to be set.

According to order types:

Market Buy: Enter the amount of USDT you've paid to buy CAKE.

Limit Buy: Enter the number of CAKE you want to buy.

Click on Buy CAKE.

Once you've confirmed your information is correct, click on Buy CAKE.

View your order details under Conditional on the web page, or All Orders → Current Orders on the Bybit app.
For more help, visit the Bybit spot trading guide.
How do you feel about PancakeSwap today?
Vote to see what the community thinks
Follow Us on Social Media
Follow