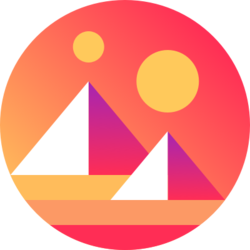 Decentraland Price
mana
+3.76%
Live
MANA
Price Summary
As of 2023年4月1日, the global cryptocurrency market cap is $1.08B with a +3.88% change in the last 24 hours. MANA's current price is $0.591293, with a 24-hour trading volume of $--. MANA is +3.76% in the last 24 hours, with a circulating supply of 1.82B MANA coins and a maximum supply of 2.19B MANA coins. MANA ranks 48 by market cap. It has a 24H high of $0.597303 recorded on 2023年4月1日, and its 24H low so far is $0.569886, recorded on 2023年4月1日.
What Is the Highest Price of MANA?
MANA has an all-time high (ATH) of $5.85 , recorded on 2021年11月25日.
What Is the
Lowest
Price of
MANA?
MANA has an all-time low (ATL) of $0.00923681, recorded on 2017年10月31日.
About Decentraland (MANA)
What Is Decentraland?
A digital platform owned by its users, Decentraland helps create virtual reality experiences using the capabilities of the Ethereum network. It is a decentralized autonomous organization (DAO) that hands the reins to its community for a truly personal and immersive experience.
The virtual world permits purchase of land plots, and gives users the ability to traverse them, build on them and monetize their digital assets. Since its launch in January 2020, the platform has expanded to include interactive apps, in-world payment and peer-to-peer communication. Users can create, experience and monetize all sorts of content and applications with it.
Decentraland upgrades its software through smart contracts that run on blockchain technology. MANA owners can vote on policy updates, land auctions and new development subsidies.
Decentraland has two tokens:
LAND: A non-fungible token (NFT) used to identify ownership of digital parcels of land.

MANA: A cryptocurrency used to purchase LAND (among other virtual goods and services) in Decentraland.
What Is MANA?
MANA, created using Ethereum smart contracts, is an ERC20 cryptocurrency token of Decentraland. An ERC20 token is a blockchain-based cryptocurrency with functions similar to those of Bitcoin, Ether and Bitcoin Cash.
MANA needs to be burned to obtain non-fungible ERC72 LAND tokens. ERC721 tokens are NFTs that enable developers to tokenize any data. With MANA tokens, users can purchase items such as avatars, wearables, and other goods and services in Decentraland.
MANA can be exchanged for fiat currency or digital currencies.
What Is MANA Used For?
MANA provides users with the ability to create, experience and monetize applications and content. Its main goal is to encourage a global network of users to build a shared virtual world. Users of this virtual world can purchase plots of land, build on them and monetize them.
MANA, the native utility token of Decentraland, serves a multitude of functions/ purposes. By burning MANA (a type of ERC token), users can obtain non-fungible ERC721 LAND tokens. MANA tokens can also be used to purchase avatars, wearables and names for in-game avatars in Decentraland.
Additionally, users gain access to interactive apps like Vanilla; in-world payments; and peer-to-peer communication using third-party servers or landowners' servers.
Who Is the Founder of Decentraland (MANA)?
Ariel Meilich and Esteban Ordano are the co-founders of Decentraland. Although they're no longer actively involved in the project, they continue to serve as advisors to Decentraland.
Ariel Meilich served as project lead at Decentraland between 2017 and 2020. Melich was the founder of several startups, including a customer relationship management (CRM) platform and a translation agency. He is currently active in his role at Big Time Studios.
The former tech lead of Decentraland, Esteban Ordano has an impressive background in the crypto industry. Prior to founding Decentraland, Ordano worked as a software engineer at BitPay, was an advisor to Matic Network, and ran a smart contract development company called Smart Contract Solutions.
At the time of this writing, Decentraland is under the direction of the Decentraland Foundation, based in the U.S. state of California.
How Does Decentraland Work?
Decentraland is a virtual reality platform powered by the Ethereum blockchain. Its DAO gives token holders a direct say regarding in-game policy and organizational activities.
There are three layers to the Decentraland protocol:
Consensus Layer: Tracks land ownership and content using Ethereum smart contracts

Land Content Layer: Responsible for distributing content to render content in the virtual world

Real-time Layer: Enables peer-to-peer communication between users
LAND is an NFT representing the game's virtual real estate. Decentraland Marketplace users keep these tokens in their crypto wallets and can sell them to others. Players can customize their personal space with games, activities and artworks for others to enjoy. Players can also monetize their LAND, and are free to do whatever they want with their plot(s).
Why Is MANA Valuable?
MANA plays a central role in the virtual world of Decentraland. You can use this currency to transact within the ecosystem and participate in managing its software.
MANA owners can customize their avatars, interact with other users, and explore the platform's metaverse by owning LAND. Owners can vote on policy updates, LAND auctions and subsidies for platform improvements.
MANA tokens used to purchase the parcels are burned or removed from circulation during the LAND auction, thereby deflating the supply of MANA. As new users join the platform, pressure on the token value can increase.
What Makes Decentraland Unique?
Decentraland provides an artistic medium, business opportunity and entertainment source for individuals, businesses and content creators.
In the metaverse, each LAND parcel takes up 16 × 16 virtual square meters, and is marked by a distinct set of Cartesian coordinates.
LAND holders can develop their plots in any way they wish, and the metaverse has many districts, each of a different size and theme. These districts result from crowdsales for MANA tokens. LAND parcels are not for sale in these districts.
Voting Rights
Decentraland uses DAOs for governance decisions. Therefore, MANA token holders have a direct say in how Decentraland operates. They can propose policy updates, vote on upcoming land auctions, and dictate what content is allowed in the metaverse.
There are virtually no limitations to what you can do on Decentraland: 3D experiences, games, applications … The possibilities are endless.
Avatar Customization
An avatar is a digital representation of a real-life person. Decentraland users can create their custom look and receive a "passport" that will allow them to embark on endless adventures in the metaverse.
To begin, sign up for an account at https://play.decentraland.org/ to start creating and customizing your avatar. You can create your customized look from a wide range of body, face, hairstyle and outfit options. In Decentraland, you can take on a completely different identity or look than in real life.
After creating your avatar and claiming your unique name, you'll receive your Decentraland Passport, which serves as a "key" that allows you to access all your Decentraland experiences. You can also manage your digital identity and virtual belongings with it.
How Many MANA Are in Circulation?
At the time of this writing (June 6, 2022), the circulating supply of MANA is about 1.85 billion MANA tokens, with the total supply of MANA at 2.19 billion (approximately 84% of the current supply). The market capitalization (market cap) of MANA is around $1.89 billion.
How to Store MANA
After you've purchased MANA, the next step is to store it and keep it safe. If you're looking for a crypto wallet to store MANA, take a quick moment to consider how you'll use it.
Since Decentraland is a platform built on top of Ethereum, wallets designed for Ethereum can easily store MANA. In the short term, mobile or web wallets make transactions effortless, while hardware wallets are ideal for long-term storage.
Hardware Wallets
A hardware wallet uses advanced encryption techniques to protect funds from hacking attempts or scams commonly associated with software and website wallets.
The best way to store MANA is in an encrypted hardware wallet, such as Ledger or Trezor. Most hardware wallets support MANA and can help keep your MANA offline and secure.
Multi-Platform Wallets
Multi-platform wallets such as Atomic Wallet can be used on Android, iOS and multiple desktop platforms. With Atomic Wallet, you can safely store over 300 cryptocurrencies, including MANA and other ERC20 tokens.
Additionally, Atomic Wallet supports atomic swaps and integrated exchange services, allowing users to switch between the assets they support, including Decentraland.
Online Wallet
For active traders who require quick access to their funds, it makes sense to store MANA on an exchange that supports it. In general, however, we don't recommend storing your MANA on crypto exchanges themselves, as they tend to lack the encryption (and thus security) that hardware wallets offer.
How to Buy MANA
You can buy MANA from any top crypto exchange, including Bybit.
Buying MANA on Bybit
To purchase MANA on the Bybit exchange, simply follow these steps:
Head to the spot trading page of MANA.

Select your trading pair on the left side of the page. For MANA, you can choose to trade with USDT, BTC or USDC.

Choose the type of order you'd like: Limit Order, Market Order or Conditional Order.
For Limit Orders:
Select Limit.

Enter the order price.

Enter the amount of MANA you wish to buy.

Click on Buy MANA.

Once you've confirmed that the information is correct, click on Buy MANA.

View your order details under Active on the web page, or Orders if you're using the Bybit app.
For Market Orders:
Select Market.

Enter the amount of USDT you've paid to buy MANA.

Click on Buy MANA.

Once you've confirmed that the information is correct, click on Buy MANA.

View your order details under Filled.
For Conditional Orders:
Select Conditional.

Enter the trigger price.

Choose to execute at Market Price or Limit Price.

Market Price: Order price need not be set.

Limit Price: Order price needs to be set.

According to order types:

Market Buy: Enter the amount of USDT you've paid to buy MANA.

Limit Buy: Enter the number of MANA you want to buy.

Click on Buy MANA.

Once you've confirmed that the information is correct, click on Buy MANA.

View your order details under Conditional on the web page, and All Orders → Current Orders on the Bybit app.
For more help, you can also visit the Bybit spot trading guide.
How do you feel about Decentraland today?
Vote to see what the community thinks
Follow Us on Social Media
Follow