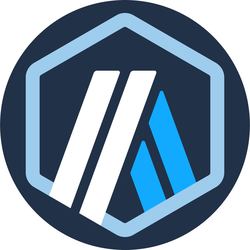 Arbitrum Price
arb
-5.66%
Live ARB Price Summary
As of Jun 8, 2023, the global cryptocurrency market cap is $1.41B with a -5.74% change in the last 24 hours. ARB's current price is $1.11, with a 24-hour trading volume of $--. ARB is -5.66% in the last 24 hours, with a circulating supply of 1.27B ARB coins and a maximum supply of 10.00B ARB coins. ARB ranks 38 by market cap. It has a 24H high of $1.19 recorded on Jun 8, 2023, and its 24H low so far is $1.11, recorded on Jun 8, 2023.
What Is the Highest Price of ARB?
ARB has an all-time high (ATH) of $8.67 , recorded on Mar 23, 2023.
What Is the Lowest Price of ARB?
ARB has an all-time low (ATL) of $1.057, recorded on May 8, 2023.
About Arbitrum (ARB)
What Is Arbitrum?
Arbitrum is an innovative blockchain protocol that recently announced its ARB token airdrop and transition to a decentralized autonomous organization (DAO). The platform provides users with the ability to create, deploy and execute smart contracts on Ethereum-compatible networks in a secure, scalable and low-cost manner.
Using Arbitrum's proprietary Layer 2 solution, developers can build decentralized applications (DApps) without having to worry about network congestion or high transaction fees associated with the main Ethereum network. Additionally, they can also take advantage of features such as atomic swaps, which allow them to trade assets across multiple blockchains without relying on centralized exchanges.
Arbitrum (ARB) Price
The long-awaited ARB token launched on Mar 23, 2023 at $8.67. This marked its all-time high and highest price paid per token as Arbitrum price soon dropped to a low of $1.20. The sudden decrease in price could be attributed to airdrop users selling their tokens for a profit as soon as the token was listed on major exchanges. While ARB's price did momentarily increase slightly to $1.53 on Mar 24, 2023, it retraced back to $1.25 the next day.
Since then, the ARB token has found support at the $1.20 mark, with slight increases and dips here and there throughout the end of March.
What Is ARB Used For?
Since ARB is an ERC-20 governance token, holders of ARB tokens also have voting rights within Arbitrum's DAO structure, which provides them with greater control over how the protocol operates. Token holders also have the power to select a trusted delegate from the Arbitrum DAO community who can represent their interests and make decisions on their behalf.
Arbitrum (ARB) Tokenomics
There is a total and max supply of 10 billion ARB tokens, with a market cap of over $1.5 billion and a 24-hour trading volume of over $680 million. The current circulating supply is more than 1.2 billion ARB tokens.
The total supply of tokens was initially distributed as follows:
DAO Treasury: 42.78%
Team, Future Team and Advisors: 26.94%
Investors: 17.53%
Individual Wallets: 11.62%
DAOs in Arbitrum Ecosystem: 1.13%
Who Is the Founder of Arbitrum (ARB)?
The Arbitrum network was created by Offchain Labs, a New York-based company founded in 2018 by Ed Felten, Harry Kalodner and Steven Goldfeder.
Read more: Arbitrum (ARB): Transitioning Into a DAO With the ARB Airdrop
How to Store ARB
ARB tokens can be stored in MetaMask, Trust Wallet, Brave or Ledger.
Where To Buy ARB
You can buy ARB from any top crypto exchange, including Bybit. On Bybit, you can trade ARB as a USDT Spot pair (ARB/USDT), USDC Spot pair (ARB/USDC) or a USDT Perpetual (ARBUSDT).
How do you feel about Arbitrum today?
Vote to see what the community thinks
Follow Us on Social Media
Follow