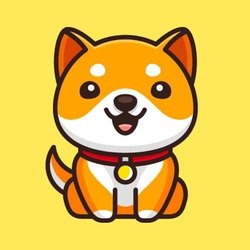 Baby Doge Coin Price
babydoge
-3.77%
Live
BABYDOGE
Price Summary
As of 25 de sep de 2023, the global cryptocurrency market cap is $161.35M with a -1.61% change in the last 24 hours. BABYDOGE's current price is $0.000000001012, with a 24-hour trading volume of $--. BABYDOGE is -3.77% in the last 24 hours, with a circulating supply of 156.12P BABYDOGE coins and a maximum supply of 420.00P BABYDOGE coins. BABYDOGE ranks 180 by market cap. It has a 24H high of $0.000000001054 recorded on 25 de sep de 2023, and its 24H low so far is $0.000000001011, recorded on 25 de sep de 2023.
What Is the Highest Price of BABYDOGE?
BABYDOGE has an all-time high (ATH) of $0.000000006345 , recorded on 16 de ene de 2022.
What Is the
Lowest
Price of
BABYDOGE?
BABYDOGE has an all-time low (ATL) of $0.000000000094771, recorded on 9 de jun de 2021.
About Baby Doge Coin (BABYDOGE)
What Is Baby Doge Coin (BABYDOGE)?
Baby Doge Coin (BABYDOGE) is a BEP-20 meme cryptocurrency built on BNB Smart Chain (formerly Binance Smart Chain) as a spin-off from the popularity of Dogecoin. Created by the vibrant Doge community, the token is seen as an improvement over Doge in terms of speedy transactions and a hyper-deflationary design to ensure scarcity.
Furthermore, Baby Doge has launched Baby Doge Swap to facilitate token swaps and increase the utility of its native token. The project has also launched its Baby Doge NFT collection, which is sold out but is available for secondary trading on OpenSea.
BabyDoge is also on a charity mission to help save dogs and raise awareness of animal protection and adoption. The project has donated over $750,000 toward this cause through partnerships with various animal rescues and shelters.
BABYDOGE Price
BABYDOGE has experienced wild price rides since its launch on June 1, 2021, with a phenomenal price spike of over 1,000% in roughly two weeks, hitting $0.000000002014 on June 25, 2021.
Soon after, the price corrected, moving sideways and dipping to $0.0000000009461. However, BABYDOGE was inevitably hit by the "Elon Musk effect" when he tweeted about Baby Doge in a cryptic song on July 1, 2021. The infamous tweet drove the meme coin's price through the roof, where it hit $0.000000005202 four days later.
Afterward, the BABYDOGE price retraced and gradually declined over the following months. However, at the beginning of October 2021, it began to recover, pumping to $0.000000004319 at the close of October. In what seems to be a trend on the Baby Doge Coin price chart, the token once again corrected.
BABYDOGE opened 2022 strong with a bullish trend in January which saw the token hit its highest price yet of $0.000000006193 on January 17. An ensuing price correction led to a low of $0.000000000817 in mid-May 2022. BABYDOGE has been trading sideways since then at around $0.0000000012.
What Is BABYDOGE Used For?
While most meme coins are rarely utility-enabled, the creators of BABYDOGE are working on building the token's value in its ecosystem and beyond. The project has a charity wallet that it uses to donate Baby Doge coins to animal causes.
Further, BABYDOGE is used to pay transaction fees on the Baby Doge ecosystem. Half of the 10% transaction fee collected is redistributed to token holders. The remaining 5% is used to provide liquidity by pairing it with BNB and adding it as a liquidity pair on PancakeSwap. The generated LP tokens are used either for burning BABYDOGE, or reinvested in the project.
Also, BABYDOGE has been listed on CoinPayments, which allows merchants that build on Shopify, WooCommerce and Magento to integrate the token as a payment option.
BABYDOGE Tokenomics
Unlike Dogecoin (DOGE), which has no supply limit, BABYDOGE has a max supply of 420 quadrillion. BABYDOGE is hyper-deflationary, with an aggressive auto-burn mechanism to create scarcity by reducing its supply. Out of every on-chain transaction, a percentage is sent to a dead wallet for burning, with 46% burned thus far (as of October 2022).
Who Is the Founder of Baby Doge Coin?
As with most meme coins, Baby Doge Coin's founder is pseudonymous. The project is community-owned, and was created by fans of DogeCoin.
Read more: Why Is Baby Doge Coin (BABYDOGE) Gaining Hype in the Crypto Space?
How to Store BABYDOGE
As a BEP-20 token, you can store BABYDOGE in wallets compatible with BNB Chain, such as Guarda, Trust Wallet, MetaMask and SimpleHold.
How do you feel about Baby Doge Coin today?
Vote to see what the community thinks
Follow Us on Social Media
Follow