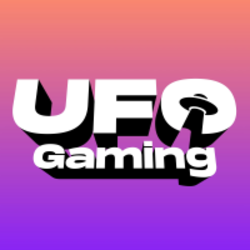 UFO Gaming Price
ufo
-4.60%
Live
UFO
Price Summary
As of 25 de sep de 2023, the global cryptocurrency market cap is $14.58M with a -4.82% change in the last 24 hours. UFO's current price is $0.000000566687, with a 24-hour trading volume of $--. UFO is -4.60% in the last 24 hours, with a circulating supply of 25.76T UFO coins and a maximum supply of 25.76T UFO coins. UFO ranks 746 by market cap. It has a 24H high of $0.000000598761 recorded on 25 de sep de 2023, and its 24H low so far is $0.000000562897, recorded on 25 de sep de 2023.
What Is the Highest Price of UFO?
UFO has an all-time high (ATH) of $0.00005569 , recorded on 25 de nov de 2021.
What Is the
Lowest
Price of
UFO?
UFO has an all-time low (ATL) of $0.00000035011, recorded on 20 de jul de 2021.
About UFO Gaming (UFO)
What Is UFO Gaming (UFO)?
UFO Gaming is a decentralized gaming platform with a holistic ecosystem. It consists of a "Dark Metaverse" with play-to-earn games, represented as planets and virtual lands, that you can own and use to earn revenue. The Dark Metaverse will also act as a gaming incubator and IDO launchpad for new games.
UFO Gaming was created on Ethereum. However, the games on the UFO Gaming platform will be integrated directly with Immutable X, a scaling solution for Ethereum NFT projects. Players can take part in UFO Gaming by minting playable NFT characters, referred to as UFOs.
The UFO Gaming platform's first game is Super Galactic, an arcade action game (ARG) that comes with a customizable soldier NFT collection you can invest in.
UFO Gaming is driven by UFO, an ERC-20 token, which is set to be the main utility token for the Dark Metaverse.
UFO Gaming Price
The UFO gaming token was launched in late June 2021 at $0.000000658. It traded sideways for the next few months, until October, when it began to rise, peaking at $0.00005569 in late November 2021 during the market bull run.
With the crypto market crash in early 2022, the UFO gaming price rapidly cascaded to $0.00000797 by January 23, 2022, and continued sliding downward till June 2022 to around $0.000000967.
The UFO gaming price saw a brief spike in August 2022, reaching a high of $0.0000063 in mid-August, before plummeting once again to approximately $0.00000219 by September 2022.
What Is UFO Used For?
Even though there are some similarities between UFO Gaming and other P2E gaming platforms, it offers a unique value proposition by providing an in-game economy that directly combines GameFi quests with NFT minting.
To play the UFO games, you need to stake UFO tokens in UFO Gaming's staking DApp, The Cosmos, to earn "Plasma Points" tokens (as well as more UFO tokens). Plasma Points are needed to mint UFOeps. You can choose to single-stake the UFO tokens or stake UFO-ETH LP tokens to earn both Plasma and UFO tokens.
UFO Gaming Tokenomics
UFO is a deflationary token that is completely community-owned, with no team allocations, no private sales and zero tokenomics. While it had an initial max supply of 51,515,151,515,515 tokens, 50% were permanently burned and 50% were added to Uniswap.
The max and total supplies are the same as the circulating supply, amounting to 25,757,575,757,575 tokens. This means that 100% of these tokens are currently in the market.
Who Is the Founder of UFO Gaming?
UFO Gaming is founded by two individuals, with the pseudonyms UFoger and Ace. UFoger is the CEO of UFO Gaming, while Ace acts as the community representative, regularly giving updates on social media regarding the platform's progress.
Read more: UFO Gaming Crypto: Into the Dark Metaverse
How to Store UFO
UFO is an ERC-20 token, meaning it's Ethereum-based and can be placed in any ETH-compatible wallet. The primary wallets that you can select from include MetaMask, Trust Wallet, MyEtherWallet (MEW), and hardware wallets like Trezor and Ledger. Before storing UFO in hardware wallets, make sure that the tokens are supported. If they're not supported, you'll have to first connect them to a third-party wallet such as MyEtherWallet (MEW).
How do you feel about UFO Gaming today?
Vote to see what the community thinks
Follow Us on Social Media
Follow