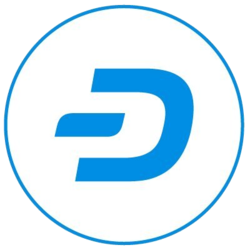 Dash Price
dash
+3.20%
Live
DASH
Price Summary
As of Dec 4, 2023, the global cryptocurrency market cap is $377.57M with a +3.84% change in the last 24 hours. DASH's current price is $32.44, with a 24-hour trading volume of $--. DASH is +3.20% in the last 24 hours, with a circulating supply of 11.57M DASH coins and a maximum supply of -- DASH coins. DASH ranks 141 by market cap. It has a 24H high of $32.82 recorded on Dec 4, 2023, and its 24H low so far is $31.14, recorded on Dec 4, 2023.
What Is the Highest Price of DASH?
DASH has an all-time high (ATH) of $1,493.59 , recorded on Dec 20, 2017.
What Is the
Lowest
Price of
DASH?
DASH has an all-time low (ATL) of $0.213899, recorded on Feb 14, 2014.
About Dash (DASH)
What Is Dash (DASH)?
One of the oldest blockchain networks (launched in early 2014), Dash (DASH) is a privacy-focused proof of work (PoW) blockchain that is a fork of Litecoin (LTC), which itself is a fork of Bitcoin (BTC). Featuring a privacy-preserving functionality called CoinJoin, DASH is a popular coin among privacy connoisseurs.
DASH is also a popular coin for crypto payments and transfers, thanks to its minimal cost and efficient transaction time. Transaction fees on Dash are low, just mere cents or even less than a cent, depending on the network's activity levels. With an average transaction confirmation time of under two seconds, Dash facilitates almost instant transactions.
As a two-tiered network, the Dash blockchain includes a network of masternodes that runs on a proof-of-service consensus mechanism on top of the usual mining nodes. The masternodes help enable a host of critical services on the Dash platform that include:
CoinJoin, a crypto mixing service for private crypto transfers
InstantSend, a service for efficient crypto payments
ChainLocks, a system that protects the blockchain from 51% mining attacks
Platform governance
DASH Price
The DASH coin started trading in early 2014 at $0.21. The coin slowly rose the first two years to about $10 by the end of 2016. In 2017, when the concept of cryptocurrency experienced a meteoric rise in popularity, DASH was among the coins whose value quickly rose. Having started at less than $12, the DASH coin skyrocketed to its all-time high of $1,493.59 close to the end of 2017.
The arrival of the 2018 crypto winter saw the coin decline as steeply as it had risen in 2017. DASH concluded 2018 at slightly above $80, a far cry from its heyday. The coin then spent the next few years trading in a broad range between $50 and $150.
DASH experienced a relatively modest price revival in early 2021, rising to $327.33 by late February, and then scaling another local peak, $441.96, in early May 2021.
After that, the wider lackluster crypto market has put downward pressure on DASH. Since about mid-2021, the coin has largely trended downward, falling firmly below the $100 level in April 2022 and trading in double-digit figures since then.
What Is DASH Used For?
DASH is widely used for digital payments, including those outside of the blockchain environment. Hundreds of online retailers accept payments in the coin. Similar to Bitcoin, DASH is also used as a store-of-value asset, thanks to its deflationary properties — a supply limitation and a gradual reduction in the mining reward amount.
The coin is also used to reward miners on the blockchain for block validation activity, as well as maintaining masternodes.
DASH Tokenomics
DASH has a max supply of 18.9 million, with a coin emission rate decrease of 7.14%. As DASH coins are mined, 10% of the new supply goes to the chain's governance fund. The remaining 90% is split between the masternodes and miners. Previously, this amount was split equally, 50/50, between the two critical user groups. Since August 2020, Dash has implemented an allocation schedule that will see the share gradually change to 60/40 for the masternodes vs. miners by May 2025.
Who Is the Founder of Dash?
Dash was created by software developer Evan Duffield. Originally known as Darkcoin, Dash was rebranded in 2015 to the portmanteau of "digital cash."
How to Store DASH
Software wallets commonly used to store DASH include Dash Core, Exodus, Guarda and Coinomi. DASH is also supported by a variety of hardware wallets, such as Ledger, Trezor, SafePal, D'CENT and more.
Where to Buy DASH
You can buy DASH from any top crypto exchange, including Bybit. On Bybit, you can trade DASH as a USDT perpetual (DASHUSDT) in the derivatives market.
How do you feel about Dash today?
Vote to see what the community thinks
Follow Us on Social Media
Follow