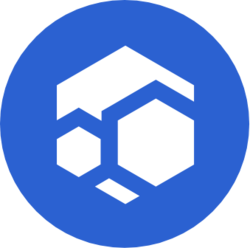 Flux Price
flux
-2.25%
Live FLUX Price Summary
As of 28 de nov de 2023, the global cryptocurrency market cap is $185.25M with a -0.28% change in the last 24 hours. Today's price of FLUX is $0.547877, with a 24-hour trading volume of $--. FLUX is -2.25% in the last 24 hours, with a circulating supply of 338.19M FLUX coins and a maximum supply of -- FLUX coins. FLUX ranks 214 by market cap. It has a 24H high of $0.579381 recorded on 28 de nov de 2023, and its 24H low so far is $0.525877, recorded on 28 de nov de 2023.
What Is the Highest Price of FLUX?
FLUX has an all-time high (ATH) of $3.33 , recorded on 3 de ene de 2022.
What Is the Lowest Price of FLUX?
FLUX has an all-time low (ATL) of $0.01640374, recorded on 13 de ene de 2021.
About Flux (FLUX)
What Is Flux (FLUX)?
FLUX is the native cryptocurrency powering the Flux ecosystem, a BaaS (blockchain-as-a-service) solutions provider consisting of a scalable decentralized cloud infrastructure network. As a gateway to web3, Flux provides DApp builders with an enterprise-grade node infrastructure, the FluxOS cloud computing system, a self-custody multi-asset wallet, and a blockchain app suite for multi-chain parallel access to DeFi.
The Flux blockchain operates on a sustainable proof of work (PoW) consensus mechanism known as proof of useful work (PoUW) to solve real-world problems with an ASIC-resistant hashing algorithm. PoUW utilizes the energy expended in securing the blockchain to concurrently solve real-world problems.
With Flux, users can deploy DApps, become node operators, stake FLUX, access decentralized file storage, and mine FLUX and Flux parallel assets across chains using GPU hardware. Flux aims to make life easy for developers by providing them with a simple, decentralized infrastructure running on FluxOS, a second-layer API-backed computational network that operates in an efficient, optimal and safe manner.
Initially known as ZelCash, which was a fork of Bitcoin through ZCash, the project rebranded into Flux in March 2021 and the token ticker changed from ZEL to FLUX.
FLUX Price
After entering the market at $0.03 in August 2018, FLUX remained largely below $0.07 until April 2019, when a short spike sent it up to $0.218. The price then corrected in May, finding support around $0.08, where it remained for many months. From 2019 to early 2021, there was barely any movement on FLUX's price chart.
However, things began to pick up in April 2021 as FLUX's price increased gradually. In the mini-bull run of late 2021, FLUX experienced one of its biggest price pumps, rising from $0.37 on October 1 and breaking through $1 in November to hit a high of $2.76.
After a slight price correction in December 2021, Flux's bullish momentum continued, with news of its listing on Binance driving the token to its ATH of $3.33 on January 3, 2022.
Thereafter, the price began a gradual decline. FLUX wasn't spared the market slump caused by the Terra LUNA crash, dumping hard from $1.22 on May 8 to a low of $0.61 on May 18, 2022.
After a slight pump back above $1 in September 2022, FLUX retreated to the $0.40–$0.60 support level, where it's remained since then.
What Is FLUX Used For?
FLUX is the native cryptocurrency for the Flux ecosystem. It's used to:
Reward miners for block validation

Stake as collateral to operate a FluxNode, and secure the Flux network

Create Flux parallel assets (Flux tokens interchangeable with other chains)

Add liquidity to DeFi platforms such as Uniswap and PancakeSwap
FLUX Tokenomics
FLUX has a total supply and max supply capped at 440,000,000 tokens. Block rewards on Flux are designed to be halved every two and a half years. You can only acquire FLUX by mining it, running a node or buying from the open market.
Who Is the Founder of Flux?
Flux was co-founded by Parker Honeyman (COO), Tadeáš Kmenta (CTO) and Daniel Keller (President).
Read more: Flux Ecosystem: Scalable Decentralized Cloud Service
How to Store FLUX
The official Flux wallet for storing FLUX tokens is Zelcore.
How do you feel about Flux today?
Vote to see what the community thinks
Follow Us on Social Media
Follow