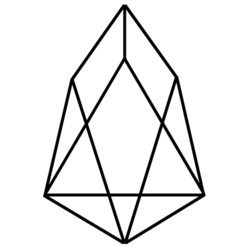 EOS Price
eos
+1.84%
Live
EOS
Price Summary
As of Feb 3, 2023, the global cryptocurrency market cap is $1.19B with a +1.93% change in the last 24 hours. EOS's current price is $1.094, with a 24-hour trading volume of $--. EOS is +1.84% in the last 24 hours, with a circulating supply of 1.09B EOS coins and a maximum supply of -- EOS coins. EOS ranks 48 by market cap. It has a 24H high of $1.11 recorded on Feb 3, 2023, and its 24H low so far is $1.068, recorded on Feb 3, 2023.
What Is the Highest Price of EOS?
EOS has an all-time high (ATH) of $22.71 , recorded on Apr 29, 2018.
What Is the
Lowest
Price of
EOS?
EOS has an all-time low (ATL) of $0.5024, recorded on Oct 23, 2017.
About EOS (EOS)
Anyone who envisions a financial utopia where cryptocurrencies overtake fiat currencies will agree that decentralized finance (DeFi) is the key to achieving this dream. In order to achieve mass adoption, DeFi platforms need to be infinitely scaleable, which can only happen with a strong blockchain foundation in place.
What Is EOSIO?
EOSIO is a smart contract and base layer platform that resembles Ethereum (ETH) in many aspects. Users can develop smart contracts and decentralized applications (DApps) on the EOS blockchain.
Released in 2017, the project claims to have resolved Ethereum's existing scaling problems. EOSIO is designed to address the existing problems of smart contract platforms. It enables smart contracts and DApps to be created and executed. There are practically no limits on its scalability, and transactions on the network are free of charge, largely due to its delegated proof of stake (DPoS) consensus mechanism.
Who Is the Founder of EOSIO?
EOSIO was developed by Block.one, a company based in the Cayman Islands. Block.one was founded by Brendan Blumer (CEO) and well-known crypto entrepreneur Dan Larimer. It has offices in numerous countries and states: Hong Kong; Washington, D.C.; Cayman Islands; London; and Germany. Its token, EOS, was officially launched in June 2017.
How Does EOSIO Work?
The technical background of EOSIO is arguably the most interesting part of its blockchain. EOSIO aims to solve existing problems of other blockchain projects. However, in order to fully understand its inner workings, it's important to first get a good grasp of DPoS, its underlying consensus mechanism.
EOSIO is often mistakenly referred to as an "Ethereum clone." However, this view is not entirely accurate. The fact that those responsible for the project could solve existing problems through completely new approaches makes EOSIO unique in the crypto world. By leveraging parallelization, the network can process up to 1 million TPS. At the same time, EOSIO is very secure: It can easily stop faulty or manipulative nodes, and even remove them if necessary.
Decentralization and Scalability
Along with its ecosystem, EOSIO positions itself as a decentralized operating system. Countless settings options allow EOSIO to be flexible and adapt easily to the different needs of organizations and companies. EOS acts as the governance token of the EOSIO network. Holders of EOS get to actively participate in the decision-making process related to EOSIO's future.
However, the main focus of EOSIO is still its unconditional scalability. The network is designed to be capable of processing over 1 million TPS — at least theoretically. In comparison, payment networks such as VisaNet or PayPal generally handle up to 1,700 TPS, and Bitcoin's network accommodates up to 7 transactions per second (TPS). Again, EOSIO achieves its remarkable TPS potential by means of its DPoS protocol. Let's learn how this mechanism works.
Delegated Proof-of-Stake (DPoS)
The brainchild of entrepreneur-cum-software developer Dan Larimer, DPoS is one of many reliable consensus algorithms. It came about when Larimer realized that the proof of work (PoW) consensus algorithm utilized by Bitcoin was energy-inefficient. In addition, he perceived the decentralization of algorithms in the increasingly powerful mining pools to be a risk. Then a proponent of proof of stake (PoS), he recognized some weaknesses in the consensus algorithm. Thereafter, DPoS was born.
Larimer created a system of different parties divided into witnesses, voters and delegates. Each user on the network receives voting rights, based on the number of tokens they possess, which can then be used for the election of witnesses. Witnesses police the network to ensure consensus and to validate transactions.
How It Works
Voting rights depend on the tokens held, so users with larger fortunes have a greater say. In total, 100 witnesses are elected, all of whom receive a reward for their work. However, only 20 of them are paid in the form of fixed income. This means that there will only be 20 nodes worldwide who confirm the transactions.
Anyone who has EOS tokens can vote and help choose the aforementioned 20 nodes. They are, of course, reimbursed for their work. This shortage is intended to create competition for the 20 places. Critics say that a network with only 20 nodes is not entirely decentralized, but DPoS proponents maintain that the election of delegates in addition to that of nodes corresponds to a democratic system.
Fraudulent or unreliable witnesses may lose their status. The third party — the delegates — have an eye on the network's progress; they can submit new proposals and set new rules. Each proposal will subsequently be submitted to the community for a vote. Delegates also keep an eye on the work of the witnesses, and can intervene in the event of fraudulent behavior.
What Is EOS?
EOS is the native token of the EOSIO network. It's not a classic currency based on the blockchain, but rather one that resembles an operating system from conception.
What Is an EOS Token Used For?
As mentioned above, transactions on EOSIO are completely free. How is this possible? Well, with blockchains like Ethereum, users pay for transactions in gas fees. This means the more people who use the network, the more expensive it becomes to use, often resulting in scalability problems. However, the inner workings of the EOSIO network are different.
EOSIO works on an ownership model in which holders of the EOS token are entitled to use network resources in proportion to their holdings, instead of having to pay for individual transactions. For instance, if you hold X number of EOS tokens, you're allowed to make only (X * n) transactions. Also, EOS holders own a stake in the network and get to participate in the governance decisions discussed above. EOS tokens can also be traded on any major crypto exchange, just as any other cryptocurrency (e.g., Bitcoin).
Why Is EOS Valuable?
Users who provide computing power to the EOS network receive EOS tokens as a reward. Developers must hold EOS tokens to access the network resources. Accordingly, they don't have to pay for computing power, but possessing a certain amount of EOS tokens assigns them an equivalent part of the available resources. For example, if you own 1% of all EOS tokens, you'll have access to 1% of the total computing power on the network. And as with any other cryptocurrency, users can send tokens from one wallet to another.
What Makes EOS Unique?
Due to its conceptual orientation, EOSIO occupies a special position in the crypto world. Neither a payment network such as Bitcoin nor a blockchain platform like Ethereum, it's most similar to a robust operating system. This makes EOSIO ideal for companies who want to store applications securely and efficiently on a blockchain. The EOS token also plays a special role in the entire crypto ecosystem.
Key Benefits of EOSIO
EOSIO is unique in terms of how it works. If comparisons were to be made, its closest equivalent would be Ethereum. Developers can create blockchain-based applications that use EOSIO as a base layer. The DPoS consensus is the basis of all the technical features of EOSIO. But what effects does the algorithm have in practice — and why is EOS considered efficient, reliable and safe?
No Transaction Cost
One special feature of EOS is network's fee-free transactions. Unlike other blockchain projects, EOS cannot be mined. The validators are paid for their work at the end of the year. The EOS token has an inflation rate of 5% (1% of which goes to the validators).
Flexibility
The delegates also make the EOSIO blockchain extremely flexible. For example, in 2016, the well-known DAO hack occurred on the Ethereum blockchain. As a result, Ethereum Classic was created by a hard fork.
EOS avoids such events by electing delegates. These delegates have the task of ensuring the progress of the project and monitoring the network. If a decentralized application manipulates the network or contains vulnerabilities, delegates can immediately freeze the DApp and repair possible damage. Attackers would have to control more than half of the delegates to undermine this system — a situation that is considered highly improbable.
Authorization Management and Updates
EOS sees itself as a network for organizations and companies. For example, company-relevant applications can be developed on the EOSIO blockchain and used by employees. Since EOSIO itself can be considered as a kind of operating system, it also offers comprehensive authorization management. Thus, both operators and developers of DApps have numerous design options for their development and administration. The applications themselves are upgradeable, and can be updated at any time.
Infinite Scalability
The absence of a PoW algorithm gives EOSIO high-performing functionality. Technically, EOSIO relies on parallel processing of transactions in the form of horizontal and vertical scaling. "Scaling out" means adding more computers to the network to widen the resource pool. "Scaling up," on the other hand, refers to the addition of computing power to specific parts of the blockchain operating system or specific DApps.
Training Courses
Whether you're interested in learning about blockchain or looking to build your own, you'll be delighted to know that EOSIO offers a number of Training & Certification in English and Spanish. The best part? They're free for all to access from now until Dec. 31, 2022. Familiarize yourself with the fundamentals of blockchain and become a part of the new global revolution.
EOSIO vs. Ethereum
Ethereum and EOSIO are united in their goals of facilitating the production of decentralized applications. But the way the two companies are structured, marketed and supported is very different. Who does it better, and who wins the race for the market?
While Ethereum is far from obsolete, some describe EOSIO as its upgraded version, or "Ethereum with a new engine." That's because EOSIO hopes to use the latest blockchain technology to overcome many of the scalability, usability and functionality issues Ethereum is currently facing.
Here are the primary differences between Ethereum and EOSIO.
Consensus Protocols
Ethereum is currently shifting to a proof of stake (PoS) consensus protocol. EOS, on the other hand, uses a delegated proof of stake (DPoS) protocol. It can process more transactions, but it also allows programmers to freeze a network if it contains faulty applications. This allows developers to repair problematic applications without affecting other accounts on the network.
The EOSIO team claims that its DPoS network can process an average of 10,000 TPS after release. However, it's important to note that Ethereum is also currently working on its scalability solutions, and anticipating its release of Ethereum 2.0 (also known as Serenity or ETH 2.0.)
Programming Languages
Another important difference is in the programming languages that can be used on the two platforms. Ethereum only allows applications to be written in Solidity. With EOSIO, however, users can operate in any language that can be compiled in Web Assembly (Wasm). The majority opt for C++ because it applies to the more commonly known languages. This makes EOSIO more attractive for developers, as they don't have to adapt to a new language.
The most attractive feature in the EOSIO white paper is horizontal scalability. This essentially means that, unlike Ethereum, the EOSIO blockchain can process transactions while executing smart contracts.
How Many EOS Tokens Are in Circulation?
EOS has no maximum supply. At the time of this writing (17 May, 2022), there are around 10 billion EOS in circulation against a total supply of approximately 105 billion EOS tokens (according to CoinMarketCap). The current EOSIO market cap is about $1.4 billion, with the price of one EOS token at $1.37.
How to Store EOS
Investors and users can store their EOS in EOS' official online wallet, or in unofficial desktop wallets or cold storage. Fortunately, there's no lack of EOS wallets available on crypto exchanges, so you can take your time to browse and choose the one that best suits your needs.
How to Buy EOS
You can buy ETH from any top crypto exchange, including Bybit.
Buying EOS on Bybit
To purchase EOS on the Bybit exchange, simply follow these steps:
Head to the spot trading page of EOS.

Select your trading pair on the left side of the page. You can trade with USDT with EOS.

Choose the type of order you'd like: Limit Order, Market Order or Conditional Order.
For Limit Orders:
Select Limit.

Enter the order price.

Enter the amount of EOS you wish to buy.

Click on Buy EOS.

Once you've confirmed that the information is correct, click on Buy EOS.

View your order details under Active on the web page, or Orders if you're using the Bybit app.
For Market Orders:
Select Market.

Enter the amount of USDT you've paid to buy EOS.

Click on Buy EOS.

Once you've confirmed that the information is correct, click on Buy EOS.

View your order details under Filled.
For Conditional Orders:
Select Conditional.

Enter the trigger price.

Choose to execute at Market Price or Limit Price.

Market Price: Order price need not be set.

Limit Price: Order price needs to be set.

According to order types:

Market Buy: Enter the amount of USDT you've paid to buy EOS.

Limit Buy: Enter the number of EOS you want to buy.

Click on Buy EOS.

Once you've confirmed that the information is correct, click on Buy EOS.

View your order details under Conditional on the web page, and All Orders → Current Orders on the Bybit app.
For more help, you can also visit the Bybit spot trading guide.
How do you feel about EOS today?
Vote to see what the community thinks
Follow Us on Social Media
Follow