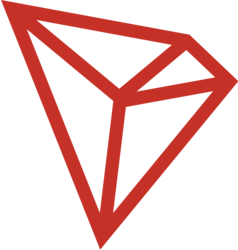 TRON Price
trx
-0.69%
Live
TRX
Price Summary
As of 1 de oct de 2023, the global cryptocurrency market cap is $7.87B with a -0.69% change in the last 24 hours. TRX's current price is $0.088311, with a 24-hour trading volume of $--. TRX is -0.69% in the last 24 hours, with a circulating supply of 89.07B TRX coins and a maximum supply of -- TRX coins. TRX ranks 11 by market cap. It has a 24H high of $0.08902 recorded on 1 de oct de 2023, and its 24H low so far is $0.088018, recorded on 1 de oct de 2023.
What Is the Highest Price of TRX?
TRX has an all-time high (ATH) of $0.231673 , recorded on 5 de ene de 2018.
What Is the
Lowest
Price of
TRX?
TRX has an all-time low (ATL) of $0.00180434, recorded on 12 de nov de 2017.
About TRON (TRX)
What Is TRON?
TRON is an open-source blockchain ecosystem that enables smart contracts and decentralized applications (DApps.) The story behind TRON is intriguing, albeit controversial. Every developer has a reason for building whatever they offer to the market. For TRON, its goal is to become the "decentralized internet and content" sharing system.
TRON started out as a token built on the Ethereum blockchain in 2017, and transitioned to a blockchain in 2018, with its own native token, TRX. Because of this shift, and how closely TRON's architecture and functions resemble Ethereum's, some developer community members have referred to TRON as an "Ethereum replica." [Interestingly, the TRON virtual machine (TVM) is compatible with the Ethereum virtual machine (EVM.)]
TRON boasts a large capacity, offers fast throughputs (up to 2,000 transactions per second, or TPS), and comes with zero transaction fees. It's no wonder, then, why it's a favorite among blockchain developers who have contended with Ethereum's congestion and high gas fees.
TRON aims to address the issue of centralized sharing platforms, which generally undervalue and take advantage of content creators. What does TRON bring to the table? A peer-to-peer network on which creators can be compensated fairly for their value and efforts.
TRON's objective is to connect content creators directly to their consumers, eliminating every form of third-party interference. This project aims to grow to a size/scale whereby it can compete with media giants such as YouTube, Netflix, Google and Amazon.
TRON's native blockchain has recorded a large percentage of growth in DApps on the TRON network, and the amount of volume transacted in TRX (Tronix) within its ecosystem. Until July 25, 2022, activities on TRON, as well as its native token, TRX, will be maintained by the TRON Foundation, after which the network's community will take charge.
What Is TRX?
Tronix — or TRX, for short — is the native cryptocurrency on the TRON network. TRX allows users to gain access to features on the TRON protocol, and is also a representation of the economic value of the TRON network.
TRX can be used as a medium of exchange and as a store of value in the long run. It is currently listed on over 10 exchanges, including Bybit, and can be traded for any supported altcoin, including Bitcoin and Ether.
What Is TRX Used For?
TRX is both the governance and utility token of the TRON network. TRX holders can stake their TRX to earn passive income, participate in voting and maintain network integrity. All transactions made within the TRON ecosystem are finalized using TRX.
Decentralized applications and network participants can only use the TRX token in order to engage the TRON blockchain's platform. Additionally, TRX stakers can profit from an incentive called "TRON Power" — and the amount they earn is directly proportional to how much TRX they stake. Afterward, TRON Power can be traded for TRX.
Who Is the Founder of TRON?
Justin Sun is the founder of both the TRON Network and the TRON Foundation, which acquired popular file-sharing software provider BitTorrent in 2018. He was the CEO of both up until December 2021.
Born in July 1990, the talented Sun wears multiple hats: Tech-savvy entrepreneur, business executive and diplomat. He holds degrees in History and East Asia studies, and was appointed Ambassador and Permanent Representative of Grenada to the World Trade Organization in December 2021.
Why Is TRX Valuable?
TRX aims to be the future of media sharing, one in which content creators earn their due while reaping the benefits of decentralized sharing.
Centralized web-based platforms earn a huge percentage from content creators and leave them to pocket "scrap." Should content creators grow in adopting TRON — a decentralized network — as their go-to platform for media sharing, they'll profit greatly, and TRX's visibility will grow.
TRX tokens derive their value from the acquisition-and-usage ratio. The more people (e.g., blockchain developers, smart contract developers, DApp developers) who are onboarded onto the TRON network, the higher TRX's value will climb. Ultimately, it's a win-win situation for everyone involved.
What Makes TRON Unique?
Delegated Proof of Stake (DPoS)
TRON uses a modified consensus on its platform, which affords it the extra speed and capacity it has over major competitors, such as Ethereum.
The blockchain started with the proof of work (PoW) consensus on Bitcoin, which encountered problems in speed and block space as the community grew.
Ethereum was also built on the PoW system, which is responsible for the high gas fees, network congestion and slow processing speed that began in 2017 when a blockchain game, CryptoKitties, exploded in popularity.
DPoS is a sequel to the power-efficient proof of stake (PoS) model that Ethereum now adopts. It offers very low power consumption, retains block security and creates greater inclusivity for TRON network users.
The TRON protocol claims to be able to process as many as 2,000 TPS, as opposed to 4.6 and 30 for Bitcoin and Ethereum, respectively.
Zero Transaction Fees
TRON doesn't just save time — it saves money, too, making it a desirable platform for developers and creators alike. One of TRON's key features is that stakeholders on the network can send amounts as large as $1 million without having to pay a single cent.
How Many TRX Are in Circulation?
According to CoinMarketCap, TRON has a total supply of 92.52 billion TRX and a circulating supply of 92.52 billion TRX — meaning it has maxed out its total supply. Its maximum supply is unknown.
At the time of this writing (July 7, 2022), TRON has a market cap of $6,249,837,761, a fully diluted market cap of $6,249,479,580, and a 24-hour trading volume of $537 million. One TRX is currently priced at $0.07.
How to Store TRX
Like every other cryptocurrency, TRX tokens need a crypto wallet to call home. Two options are available to TRX holders looking to store their TRX tokens, or those looking to purchase TRX: Hot wallets and cold wallets.
Hot Wallet
Hot wallets are accessible via the internet. You can access one through your desktop or mobile device. While hot wallets offer you quick access and mobility, a major flaw is the ease with which scammers and cyber thieves can raid your account, since it's always online.
A hot wallet is a viable option if you're only in it for the short term.
Cold Wallet
A cold wallet isn't connected to the internet. Rather, as its name implies, your funds are locked away in "cold storage." Fundamentally a small unit of hardware, this type of wallet is safer, and is ideal for HODLers or users with a lot of TRX to store. Hardware wallets like Ledger Nano S and Ledger Nano X support TRX tokens.
How to Buy TRX
You can buy TRX from any top cryptocurrency exchange, including Bybit.
Buying TRX on Bybit
To purchase TRX on Bybit, simply follow these steps:
Head to the spot trading page ofTRX.

Select your trading pair on the left side of the page. You can trade USDT for TRX.

Choose the type of order you'd like to make: Limit Order, Market Order or Conditional Order.
For Limit Orders:
Select Limit.

Enter the order price.

Enter the number of TRX you want to buy.

Click on Buy TRX.

Once you've confirmed that your information is correct, click on Buy TRX.

View your order details under Active on the web page, or Orders if you're using the Bybit app.
For Market Orders:
Select Market.

Enter the amount in USDT that you've paid to buy TRX.

Click on Buy TRX.

Once you've confirmed that your information is correct, click on Buy TRX.

View your order details under Filled.
For Conditional Orders:
Select Conditional.

Enter the trigger price.

Choose to execute at Market Price or Limit Price.

Market Price: Order price need not be set.

Limit Price: Order price needs to be set.

According to order types:

Market Buy: Enter the amount of USDT you've paid to buy TRX.

Limit Buy: Enter the number of TRX you want to buy.

Click on Buy TRX.

Once you've confirmed that your information is correct, click on Buy TRX.

View your order details under Conditional on the web page, and All Orders → Current Orders on the Bybit app.
For more help, you can also visit the Bybit spot trading guide.
How do you feel about TRON today?
Vote to see what the community thinks
Follow Us on Social Media
Follow